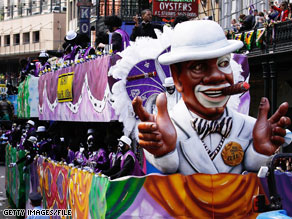 An open primary is scheduled for Saturday in New Orleans amidst Mardi Gras celebrations.
Washington (CNN) - File this one under all politics is local.
New Orleans will be rocking this weekend as Mardi Gras season is well underway and the hometown Saints contend in the Super Bowl. But all the celebratory hoopla is raising questions about Saturday's elections which include an open primary for Mayor.
In Orleans Parish eleven mayoral candidates, Democrats and Republicans, will be on the ballot to replace Mayor Ray Nagin, a Democrat who is term limited. If no candidate wins 50 percent of the vote, the top two vote getters will go headto head in a runoff.
On Election Day across the Crescent City there are five carnival crews scheduled to hold their annual Mardi Gras parades . Starting at noon many streets will be blocked off as the floats and marching bands make their way down the wide avenues and residents will line the streets grasping for beads and doubloons. Many will also be making preparations for Super Bowl celebrations.
Amid all the distractions, the top candidates are crafting strategies to get out the vote.
"The idea is to get people to vote earlier in the day," said John Georges a local business mogul who is running as a Democrat and has been in the top three candidates in local polling. "We've been running a neighborhood by neighborhood campaign. Our signs are neighborhood specific. All of our campaigning is by neighborhoods. It's a totally new approach."
Georges ran for governor and lost to Republican Bobby Jindal in 2008 but won Orleans Parish. Come Saturday he thinks he will have another strong showing.
"I'm more worried about my fans who went to Miami and didn't vote than the folks who are still here and might get stuck in traffic," he said.
Troy Henry, a Democrat and business consultant by trade, is in his first campaign for public office. He is less concerned about possible obstructions and distractions. "It's a city wide election. New Orleanians have been dealing with Mardi Gras for years and know how to plan their lives around it. They're smart people. They're survivors and they're smart. I don't think the challenge is as daunting as people think."
If early voting is any indication of turnout and excitement, Saturday could be huge.
Well over 16,000 people cast ballots early, raising the bar from last year's presidential election when just over 12,000 voters voted early.
"It was the perfect storm with Mardi Gras and the Saints in the Super Bowl so we had a lot of early voting," said Sandra Wilson the Registrar of Voters for Orleans Parish. "I just hope people go to the polls in great numbers as they did in early voting," Wilson said. "This election is phenomenally important. This is a city that's ready for great change and voters need to go out and make great choice."
Arthur Morrell is the Chief Election Officer for the city and is charged with running Saturday's election. He thinks the celebrations could boost turnout. "People are talking about voting and are going to be here and stay here to celebrate," he said. "The majority of us can't go to the Super Bowl in Miami. I've even heard of people who have not yet settled back coming back to celebrate the Super bowl and they'll vote while they're here."