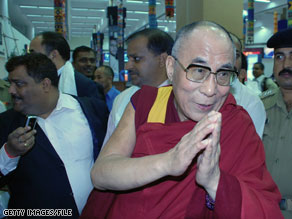 The Dalai Lama will meet with President Obama in February.
Washington (CNN) - President Barack Obama will meet with the Dalai Lama later this month, White House Press Secretary Robert Gibbs said Thursday.
Gibbs declined to give a specific date.
The Dalai Lama, the spiritual leader of Tibet, has speaking engagements scheduled in the United States in late February and in May.
Earlier this week, China warned that ties between two of the world's superpowers would be strained if Obama met with the Dalai Lama.
"It will seriously undermine the foundation of Sino-U.S. political relations," said Zhu Weiqun, a Communist Party official who is in charge of talks with representatives of the Dalai Lama. "We will take corresponding action to make relevant countries see their mistakes."
Beijing accuses the Dalai Lama of advocating for Tibetan independence from China.
Tibet is technically autonomous from the central Chinese government, but the Dalai Lama and others have said they favor genuine autonomy and resent the slow erosion of their culture amid an influx of Han Chinese, the most numerous ethnic group in China.
Zhu said there would be no compromise on China's control of Tibet.
The Dalai Lama fled China in 1959 after a failed uprising against Chinese rule. He lives in exile in the north Indian hill town of Dharamsala.