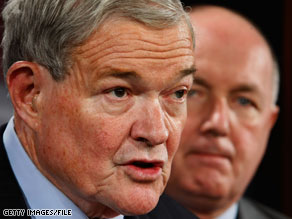 Sen. Kit Bond wrote President Obama a letter Thursday expressing concern over the handling of sensitive information.
Washington (CNN) – White House press secretary Robert Gibbs pushed back Thursday against claims made by Sen. Kit Bond, R-Missouri, that the Obama administration mishandled critical security information in the case of Christmas Day bomber Umar Farouq Abdulmutallab.
"I am deeply disturbed with the official handling of vital national security information regarding the recent cooperation by the Christmas Day bomber Umar Farouq Abdulmutallab," Bond wrote in a letter sent Thursday to President Obama.
Bond, the senior Republican on the Senate Intelligence Committee, said in his letter that he was briefed Monday about Abdulmutallab's cooperation with authorities.
Bond wrote that within 24 hours of the FBI briefing Congress, the White House had informed reporters of Abdulmutallab's cooperation, a move Bond charged that "has no doubt been helpful to his terrorist cohorts around the world."
During Thursday's White House briefing, Gibbs said no classified information was disseminated to reporters. "Having read the letter, no briefing was done here or anywhere in this administration where classified information is used in a place it shouldn't be."
Gibbs went a step further, calling on Bond to apologize, "He owes an apology to professionals in the law enforcement community and those that work in this building."
Bond fired back in a statement to CNN. "After telling me to keep my mouth shut, the White House discloses sensitive information in an effort to defend a dangerous and unpopular decision to Mirandize Abdulmutallab and I'm supposed to apologize?" Bond said.