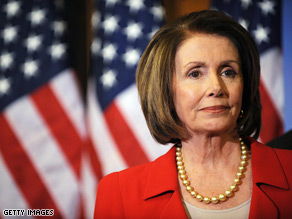 Pelosi is seeking to calm nervous Dems.
Washington (CNN) - Job growth is expected to take center stage Friday as House Speaker Nancy Pelosi addresses the increasingly anxious leadership of her party at the Democratic National Committee's winter meeting.
Pelosi's remarks will coincide with the release of the Labor Department's January employment report. President Barack Obama will stress the need for small business job growth later in the day at a separate event in Maryland.
While the president claimed credit Thursday night for breaking "the back of the recession," the jobless rate has remained high at 10 percent.
Politically, Pelosi and Obama find themselves in an uncomfortable position as their party's centrist and liberal wings are at odds over the best way for Democrats to recover from a string of recent election losses.
Moderates facing tough challenges in the looming midterm elections are stressing issues such as the need to reduce spiraling deficits. Progressives warn that a failure to more aggressively pursue issues such as health care reform will depress turnout this November from an already deflated and angry political base.
In Congress, Democrats remain divided over how to proceed in the wake of Massachusetts GOP Sen. Scott Brown's upset victory in the race for Ted Kennedy's seat, which stripped Democrats of their 60-seat Senate supermajority. Brown's win gave Senate Republicans the power to block most legislative initiatives.
For the near term, however, most senior Democrats appear to be in agreement on the need to stress job growth. Senate Majority Leader Harry Reid, D-Nevada, said Thursday that he could call for a vote on a new job stimulus bill as soon as Monday.
He indicated he'd like to see congressional approval of a measure before lawmakers recess for the President's Day holiday next Friday.
With the balance of power changed in the Senate, Democrats have moved away from introducing a comprehensive bill similar to the $154 billion legislation passed by the House in December. Instead, they will likely push through smaller measures in stages.
Reid said he's hoping for bipartisan cooperation, but is prepared to proceed solely with Democratic support. Republicans, however, said they have not been asked to the table.
"This is a bill the Democrats are writing without input from Republicans," a GOP aide said. "If Democrats wanted a bipartisan bill, they would invite Republicans in to help write it."
The Democrats' agenda includes: Renewing existing highway legislation for a year, which is expected to result in one million jobs, Reid said. Also, enacting small business and job creation tax credits. And extending Build America Bonds, a stimulus measure that helps states and municipalities fund capital construction projects.
The president's fiscal 2011 budget, unveiled Monday, would direct $50 billion to job creation measures, including clean energy initiatives and road projects.
"Infrastructure is where the jobs are, and we need to move in that direction rapidly," Reid said.
Top Democrats would also like to enact the president's Cash for Caulkers proposal, which would subsidize making homes and buildings more energy efficient.
The first job creation bill of the new year was unveiled on Wednesday. The measure, promoted by Sens. Charles Schumer, D-New York, and Orrin Hatch, R-Utah, would absolve any private-sector employer who hires a worker who's beenunemployed for at least 60 days of paying the 6.2 percent share of the employee's Social Security payroll tax for the rest of 2010.
Also, employers who keep these workers on the payroll continuously for a year would be eligible for a $1,000 tax credit on their 2011 tax returns.
Democrats' other measures, however, aren't likely to get as warm a reception from the GOP. Already, several Republican senators have come out against using TARP bank bailout funds to jumpstart lending to small businesses and raising taxes on the wealthy.
Since Obama outlined his job creation push in his State of the Union speech last week, he has traveled up and down the East Coast promoting his small business initiatives. These include jumpstarting small business lending by giving $30 billion in TARP funds to banks and providing these firms with a $5,000 tax credit for each addition to their payrolls.
–CNN's Tami Luhby and Alan Silverleib contributed to this report