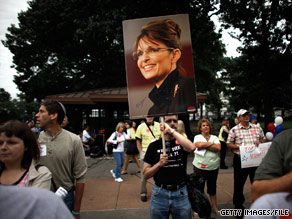 A new poll out Friday takes a look at the public's view of the Tea Party and former Alaska Gov. Sarah Palin.
Nashville, Tennessee (CNN) - One third of Americans have a favorable view of the Tea Party movement, but a plurality have no opinion at all, according to a new national poll.
A CNN/Opinion Research Corporation survey indicates that 26 percent of the public has an unfavorable view of the Tea Party movement and that four in ten have never heard of the movement or don't know enough to form an opinion. The poll's Friday morning release comes as what's being billed as the first national Tea Party convention begins its first full day of meetings Nashville, Tennessee.
"The Tea Party movement is a blank slate to many Americans, which is not surprising for a political movement that is only about a year old," says CNN Polling Director Keating Holland. "Not surprisingly, opinion breaks along partisan and ideological lines."
According to the survey, Democrats by a two-to-one margin have an unfavorable view of the Tea Party movement; Republicans like it by a three-to-one margin. Among Independents, 35 percent of Independents holding a positive view and 24 percent a negative view.

On Saturday, Sarah Palin will serve as the convention's keynote speaker. The poll indicates that Americans are split on the former Alaska governor and 2008 GOP vice presidential nominee, with 43 percent seeing her in a positive light and 46 percent holding an unfavorable view.
"Opinion on Sarah Palin also breaks down along party lines, with seven in ten Democrats disliking her and seven in ten Republicans with a positive view of Palin. She has a net-negative rating among Independents: 42 percent favorable and 47 percent unfavorable," adds Holland. "She also continues to rate better among men than women."
The poll was conducted January 22-24, with 1,009 adult Americans questioned by telephone. The survey's overall sampling error is plus or minus 3 percentage points.
–CNN Deputy Political Director Paul Steinhauser contributed to this report.