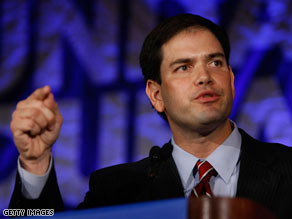 Grover Norquist endorsed Senate hopeful Marco Rubio on Tuesday.
Washington (CNN) - Florida Senate hopeful Marco Rubio has secured yet another endorsement from a national conservative leader.
Grover Norquist, the president of the anti-tax group Americans for Tax Reform, endorsed the Republican candidate Tuesday.
"I have followed Marco Rubio's career very closely and am proud to support him in his bid for U.S. Senate," Norquist said in a statement. "In closely examining his record, I remain convinced he has been the most courageous, pro-taxpayer legislative leader in the country and will continue this path in the U.S. Senate."
Rubio is locked in a tight GOP primary race against Florida Gov. Charlie Crist.
Rubio, once considered a long shot candidate, has secured endorsements in recent weeks from House Republican Conference Chairman Mike Pence and Wisconsin Rep. Paul Ryan.