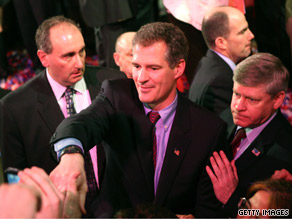 Brown has plans to write a book in part about his upset Senate victory.
(CNN) - Newly minted Sen. Scott Brown has plans to write a book about his life story and improbable win in Massachusetts last month.
Brown - who rocketed to stardom in the Republican Party after scoring the upset victory to fill the seat of the late Sen. Edward Kennedy in January - has been "approached by many people who want him to tell his inspirational personal story," spokeswoman Gail Gitcho said.
"He will tell his story in a book in hopes of providing insight and encouragement to others and also to ensure that the record is complete and accurate," Gitcho also said in a statement. "Part of the book proceeds will be donated to charity. Senator Brown will work with a collaborator so he can continue to focus fully on his service to the people of Massachusetts, which is, and always will be, his first priority."
The terms of Brown's book deal will be negotiated by Robert Barnett, the Washington lawyer who has sealed lucrative deals for several high profile politicians including former Alaska Gov. Sarah Palin.
Senate rules do allow Brown to write a book while in office, but it will first be approved by the Senate Ethics Committee.