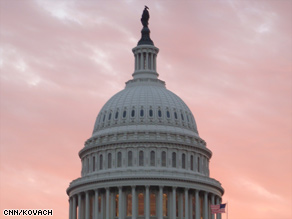 The CNN Washington Bureau's morning speed read of the top stories making news from around the country and the world.
WASHINGTON/POLITICAL
For the latest political news: www.CNNPolitics.com
CNN: Obama open to 'incremental steps' on job growth
President Obama and top congressional leaders from both parties expressed cautious optimism Tuesday that they can reach agreement on a new jobs bill.The positive assessment came after Obama spent much of the morning huddling with a bipartisan Capitol Hill delegation to discuss ways to help lower the country's 9.7 percent unemployment rate.
CNNMoney: Senate jobs bill: What's missing
Senate Democrats' draft plan for job creation, circulated Tuesday, contains a couple of employment measures and a lot of leftover business. What's not included in the $85 billion draft legislation is additional funds for states or stimulus money for infrastructure, which Republicans have said they will not support.
Investors Business Daily: Economic Optimism Falters In February; Losing Faith In Gov't
Voters are souring on the economy and the government's remedies, according to the IBD/TIPP Economic Optimism Index released Tuesday. It fell 4.1% to 46.8 in February, back to December's level and the weakest since July.
CNN: U.S. ready to offer Iran alternative to nuclear plan
In what appears to be an attempt to call Iran's bluff on its nuclear program, the United States is poised to offer Tehran a way to obtain medical isotopes that Iran says it desperately needs to treat cancer patients, according to the State Department. The United States, along with "other countries," will present a new proposal to the International Atomic Energy Agency to provide Iran with those isotopes, State Department spokesman P.J. Crowley said Tuesday.
New York Times: Pakistan Is Said to Pursue Role in Afghan Talks With U.S.
Pakistan has told the United States it wants a central role in resolving the Afghan war and has offered to mediate with Taliban factions who use its territory and have long served as its allies, American and Pakistani officials said.
The Hill: Climate-change legislation buried under record snowfall in capital
Record snowfall has buried Washington — and along with it, buried the chances of passing global warming legislation this year. Cars are stranded in banks of snow along the streets of the federal capital, and in the corridors of Congress, climate legislation also has been put on ice. Democratic senators say a bill that was once a top priority for the party and for President Barack Obama cannot be dug up again during 2010.
CNN: Obama, Republicans spar over starting point for health care summit
President Obama said Tuesday his televised health care summit with Republican leaders on February 25 should involve true give-and-take negotiations instead of mere "political theater."In a rare appearance at the daily White House media briefing, Obama said he wants the meeting - which also will include health care experts - to "establish some common facts" on the health care issue and reach agreement on the most pressing health care problems facing the country.
CNN: First lady on health care: 'Doing nothing ... not an option'
Michelle Obama expressed confidence Tuesday that Congress will enact some sort of change to improve the nation's health care system. …Obama's appearance coincided with the launch of her initiative to improve the fitness of young people, starting with her own two grade-school children.
CNN: State Department rebuffs call for Clinton intervention in Haiti case
Secretary of State Hillary Clinton will not get directly involved in the case of the 10 Americans detained in Haiti on child abduction charges, a State Department spokesman said Tuesday.
CNN: New York governor vows to stay in office
New York Gov. David Paterson vowed Tuesday that he would not allow unfounded rumors to drive him from office and pledged to run for his own four year term in November.
Miami Herald: Florida GOP money transfers raise questions
The flow of money in and out of the Republican Party of Florida is leading to debate over whether state campaign finance laws ensure transparency.
Pittsburg Post-Gazette: Rendell to decide soon when to hold election to fill Murtha's seat
Because of the great political interest in the matter, Gov. Ed Rendell says he'll soon decide whether to have a special election to fill U.S. Rep. John Murtha's seat in Congress or whether to hold the election on primary day, May 18.
Politico: The nuking of Dan Coats
In the week since Dan Coats announced he was preparing to challenge Democratic Sen. Evan Bayh, Democrats have launched a withering, no-holds-barred assault on the former Republican senator, throwing him off-balance and raising questions about whether his prospective candidacy has suffered lasting damage.
New York Times: New York Senate Expels Monserrate Over Assault
The State Senate on Tuesday expelled a senator convicted of domestic assault, the first time in nearly a century that the Legislature has forced a member from office.The Senate voted 53-to-8 to immediately oust the senator, Hiram Monserrate, a Queens Democrat convicted last fall of a misdemeanor for dragging his companion down the hallway of his apartment building.
NATIONAL
For the latest national news: www.CNN.com
USA Today: Alcohol abuse weighs on Army
The Army needs to double its staff of substance-abuse counselors to handle the soaring numbers of soldiers seeking alcohol treatment, said Gen. Peter Chiarelli, the Army's No. 2 officer.
New York Times: F.D.A. to Increase Medical Radiation Oversight
The federal Food and Drug Administration said Tuesday that it would take steps to more stringently regulate three of the most potent forms of medical radiation, including increasingly popular CT scans, some of which deliver the radiation equivalent of 400 chest X-rays.
CNN: No relief for snowed-under seaboard
Another massive snowstorm barreled into the mid-Atlantic region Tuesday, as residents still reeling from a paralyzing weekend blizzard faced more of the same.
Houston Chronicle: NASA chief: Mars is our mission
NASA's emerging exploration plan will call for safely sending humans to Mars, possibly by the 2030s, and de-emphasize exploration of the moon, the agency's leader said Tuesday.
INTERNATIONAL
For the latest international news: http://edition.cnn.com
New York Times: U.S. Eyes Tougher Sanctions Over Iran Nuclear Program
The Obama administration is working on a series of sanctions that would take aim at the Islamic Revolutionary Guards Corps of Iran, publicly singling out the organization's vast array of companies, banks and other entities in an effort to curb Tehran's nuclear ambitions.
Jerusalem Post: 'Impose crippling sanctions on Iran now'
In the wake of an Iranian announcement that it began enriching uranium to a higher level over the vociferous objections of the US and its allies, Prime Minister Binyamin Netanyahu on Tuesday urged European Union ambassadors to help promote immediate, "crippling sanctions" against Teheran.
CNN: Endeavour docks with international space station
The space shuttle Endeavour docked with the international space station early Wednesday, completing a three-day orbital chase.
CNN: Chavez announces electricity emergency in Venezuela
Venezuelan President Hugo Chavez has declared a state of emergency for the South American nation's electricity supply and announced a series of billing sanctions and rewards based on a customer's energy use.
BBC News: China's export prowess confirmed, January figures show
China's exports and imports grew substantially in January year on year. This suggested that global demand for Chinese made goods is continuing and Chinese consumers are spending too.
BUSINESS
For the latest business news: www.CNNMoney.com
CNNMoney: Unemployment taxes slam businesses
Employers are getting hit with a massive tax hike at a time when they can least afford it. Companies in at least 35 states will have to fork over more in unemployment insurance taxes this year, according to the National Association of State Workforce Agencies.
Der Spiegel: How Brussels Is Trying to Prevent a Collapse of the Euro
The problems facing Greece are just the beginning. The countries belonging to Europe's common currency zone are drifting further and further apart, and national bankruptcies are a distinct possibility. Brussels is faced with a number of choices, none of them good.
New York Times: Talk of Assistance for Greece Propels Markets
Hopes that the wealthy nations of Europe would come to the aid of Greece galvanized financial markets on Tuesday and, for a day at least, soothed fears that the economic troubles on the fringes of the Continent might spread.
Bloomberg: Paulson, Once a Top Earner, Tells Buffett Bankers Make Too Much
Henry Paulson, who was paid an $18.7 million cash bonus for his final six months of work on Wall Street in 2006, said bank bailouts he later orchestrated as Treasury secretary should encourage firms to rein in pay.
Charlotte Observer: Time for bonus round at banks
Bank bonuses are bouncing back, at least to some extent. To be sure, they're not climbing to the heady levels of three or four years ago. And for many bankers, a bigger portion of their bonus pay will be tied to company stock and isn't immediately spendable, a nod to populist anger about perceived fat cats on Wall Street. Still, there is some cause for celebration inside the Charlotte towers of Bank of America and Wells Fargo.
CNNMoney: Toyota's next problem: Lawsuits
Fixing millions of gas pedals and brakes and convincing customers their vehicles are safe could end up being the least of Toyota's challenges. Some experts think the price tag from legal settlements could end up topping the company's estimate of $2 billion in recall costs.
Wall Street Journal: Secretive Culture Led Toyota Astray
The heart of Toyota's problem: Its secretive corporate culture in Japan clashed with U.S. requirements that auto makers disclose safety threats, people familiar with the matter say. The relationship soured even though Toyota had hired two former NHTSA officials to manage its ties with the agency.
The Guardian: Honda extends car recall over airbags fault
Honda is recalling another 437,000 vehicles for faulty airbags, in the latest quality problem to hit a Japanese carmaker.
Bloomberg: Sugar Shortage May Turn 'Acute' in Third Quarter
A global sugar shortage, which drove prices to the highest level in three decades, may peak in the third quarter this year on demand from the U.S., Mexico, India and Pakistan, according to U.S.-based Tropix Capital Management.
In Case You Missed It
President Obama discusses the outcome of a bipartisan meeting he held with members of Congress.
http://www.cnn.com/video/#/video/politics/2010/02/09/bts.obama.briefing.bipartisan.mtg.cnn
Subscribe to the CNN=Politics DAILY podcast at http://www.cnn.com/politicalpodcast
And now stay posted on the latest from the campaign trail by downloading the CNN=Politics SCREENSAVER at http://www.CNN.com/situationroom