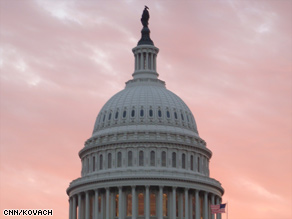 The CNN Washington Bureau's morning speed read of the top stories making news from around the country and the world.
WASHINGTON/POLITICAL
For the latest political news: www.CNNPolitics.com
CNNMoney: Jobs bill advances ... or does it?
The Senate's slow-moving effort to spur job creation was thrown into turmoil Thursday. Senate Majority Leader Harry Reid, D-Nev., said Democrats will offer a slimmed down jobs bill. Only hours earlier, a key Republican and key Democratic issued a more comprehensive measure that they said had bipartisan support.
CNN: Democrats move to counter campaign finance ruling
Top congressional Democrats unveiled legislation Thursday that would ban foreign-controlled companies receiving either government contracts or federal bailout funds from spending money on U.S. elections.
Los Angeles Times: Drug industry lobbyist Billy Tauzin to resign
Billy Tauzin, the chief lobbyist for the pharmaceutical industry who forged a private deal with the Obama administration to push the healthcare overhaul forward, will announce his resignation Friday, further complicating the outlook for passage of comprehensive legislation this year.
Washington Post: Obama will help select location of Khalid Sheik Mohammed terrorism trial
President Obama is planning to insert himself into the debate about where to try the accused mastermind of the Sept. 11, 2001, attacks, three administration officials said Thursday, signaling a recognition that the administration had mishandled the process and triggered a political backlash.
Washington Post: New senator Scott Brown was a quiet presence in Massachusetts
For Democrats and Republicans eager for clues to the ideological influence Brown might have on Washington - whether he will align firmly with congressional Republicans or fulfill his campaign promise to be an independent voice - his political past offers intriguing but incomplete evidence.
Boston Globe: Brown may win seat on key panel
Republican Senator Scott P. Brown has a strong chance of winning a coveted seat on at least one committee with jurisdiction over national security spending, according to Senate aides, which could give him a boost as he tries to fill the late Edward M. Kennedy's role as leading procurer of federal contracts for Massachusetts' defense industry.