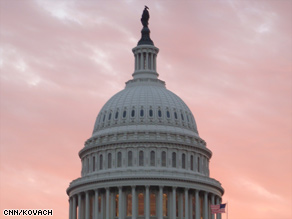 The CNN Washington Bureau's morning speed read of the top stories making news from around the country and the world.
WASHINGTON/POLITICAL
For the latest political news: www.CNNPolitics.com
CNNMoney: Jobs bill advances ... or does it?
The Senate's slow-moving effort to spur job creation was thrown into turmoil Thursday. Senate Majority Leader Harry Reid, D-Nev., said Democrats will offer a slimmed down jobs bill. Only hours earlier, a key Republican and key Democratic issued a more comprehensive measure that they said had bipartisan support.
CNN: Democrats move to counter campaign finance ruling
Top congressional Democrats unveiled legislation Thursday that would ban foreign-controlled companies receiving either government contracts or federal bailout funds from spending money on U.S. elections.
Los Angeles Times: Drug industry lobbyist Billy Tauzin to resign
Billy Tauzin, the chief lobbyist for the pharmaceutical industry who forged a private deal with the Obama administration to push the healthcare overhaul forward, will announce his resignation Friday, further complicating the outlook for passage of comprehensive legislation this year.
Washington Post: Obama will help select location of Khalid Sheik Mohammed terrorism trial
President Obama is planning to insert himself into the debate about where to try the accused mastermind of the Sept. 11, 2001, attacks, three administration officials said Thursday, signaling a recognition that the administration had mishandled the process and triggered a political backlash.
Washington Post: New senator Scott Brown was a quiet presence in Massachusetts
For Democrats and Republicans eager for clues to the ideological influence Brown might have on Washington - whether he will align firmly with congressional Republicans or fulfill his campaign promise to be an independent voice - his political past offers intriguing but incomplete evidence.
Boston Globe: Brown may win seat on key panel
Republican Senator Scott P. Brown has a strong chance of winning a coveted seat on at least one committee with jurisdiction over national security spending, according to Senate aides, which could give him a boost as he tries to fill the late Edward M. Kennedy's role as leading procurer of federal contracts for Massachusetts' defense industry.
CNN: Clinton was on 'frenetic pace' before heart procedure
Former President Bill Clinton's heart troubles come as he was embarking on a busy schedule, recently working on relief efforts for earthquake-ravaged Haiti. On Thursday, Clinton was hospitalized at the Columbia Campus of New York-Presbyterian Hospital after experiencing chest pain, according to Douglas Band, counselor to the former president. Two stents were placed in one of his coronary arteries.
Salt Lake Tribune: House OKs roadblocks to federal health reform
The Utah House on Thursday passed a bill telling Congress that it's not in control of health care here. …Democrats opposing the bill said it's premature because federal reform hasn't happened and no longer seems imminent. They also feared the state's hurdle could cost the state and its neediest residents millions in federal Medicaid assistance.
CNN: Rep. Patrick Kennedy not running for re-election
Rhode Island Congressman Patrick Kennedy, a Democrat, is not running for re-election, he said Thursday in a video to his constituents.
Evansville Courier & Press: Bayh, Coats face big question: 'Are you a Hoosier?'
Both former Sen. Dan Coats, who moved back to Indiana to prepare a run for the seat he once held, and two-term Democratic incumbent Sen. Evan Bayh are fending off questions about their status as Hoosiers.
San Francisco Chronicle: Billionaire Whitman makes money call
As Democrats gear up to try and put the hurt on front-running GOP gubernorial contender Meg Whitman with a series of independent expenditure attacks, the wealthy former eBay boss is putting out a financial SOS to her own backers.
Las Vegas Review Journal: Krolicki won't run for U.S. Senate
Lt. Gov. Brian Krolicki said today he won't run for Sen. Harry Reid's U.S. Senate seat, partly because he couldn't put together a strong enough grass-roots campaign team that could defeat what he called a crowded "Republican scrum" of primary candidates.
CNN: Competitive race brews in Murtha's district
The mountains and valleys of southwestern Pennsylvania seem a world away from Washington, but they may soon be the scene of a fierce campaign battle between Democrats and Republicans. Monday's death of Democratic Rep. John Murtha triggers a special election for his office, and conventional wisdom says the GOP has a good chance to pick up a House seat.
NATIONAL
For the latest national news: www.CNN.com
USA Today: 10,000 TSA staff to get secret intel
About 10,000 airport security workers will get access to secret intelligence that could help stop terrorist attacks on planes. The Transportation Security Administration plan aims to help its officers spot terrorists by giving them more detailed information about tactics and threats, TSA officials and security experts said. The agency, viewed by some as throngs of workers pawing through luggage at checkpoints, hopes to empower its higher-level workers as part of an effort to professionalize airport security.
CNET: Feds push for tracking cell phones
Even though police are tapping into the locations of mobile phones thousands of times a year, the legal ground rules remain unclear, and federal privacy laws written a generation ago are ambiguous at best. On Friday, the first federal appeals court to consider the topic will hear oral arguments (PDF) in a case that could establish new standards for locating wireless devices.
Newark Star-Ledger: N.J. Gov. Christie announces state of fiscal emergency with $2.2B budget shortfall
Gov. Chris Christie seized extraordinary powers to shrink the current state budget today, infuriating Democratic lawmakers ahead of an even bigger fight over the next spending plan and laying the foundation for unprecedented changes in the way all New Jersey governing bodies operate.
INTERNATIONAL
For the latest international news: http://edition.cnn.com
CNN: Iran resumes nuclear weapon work, U.S. report expected to say
A soon-to-be released U.S. assessment of Iran's nuclear program is expected to conclude that the government has resumed limited work on a nuclear weapon, according to a U.S. official.
CNN: Iranian security forces, protesters clash on revolution anniversary
Coming through on a promise to crack down on protesters on the 31st anniversary of the Islamic Revolution, Iran's security forces clashed with demonstrators Thursday, as hundreds of thousands filled a "disruption-free" Tehran square to hear their president announce the expansion of Iran's nuclear program.
New York Times: Sealing Shift, Chávez Gives Contracts to Western Oil Companies
After clashing with foreign oil companies in recent years, President Hugo Chávez of Venezuela has shifted strategy and awarded contracts to Western oil companies, hoping to increase his nation's flagging oil production and pull the country out of a sharp economic downturn.
New York Times: With Greece's Woes, Nations Rethink Push Into Euro Zone
The tiny Baltic states have pursued closer integration with Europe with enormous zeal. But the price of monetary union may be giving them pause. Economists and ordinary citizens alike are watching the protests rumbling through the streets of Athens and the slow response to Greece's problems coming out of Brussels.
Times of London: New Greece fear as poor German growth hits euro
The euro continued to fall in early trading this morning as new figures revealed the eurozone's biggest economy came to a standstill during the final three months of 2009. Germany's GDP remained unchanged in the fourth quarter of last year, falling below forecasts of 0.2 per cent growth and far below third quarter output which rose by 0.7 per cent.
BBC News: Iraq election campaign under way amid candidacy row
Campaigning for the election in Iraq is getting under way amid a continuing row over the ban on scores of candidates.
CNN: Suicide bomber strikes U.S. base
Five U.S. soldiers were wounded Thursday when a suicide bomber attacked a U.S. base, an Afghan official said.
New York Times: Afghans Try to Reassure Tribal Elders on Offensive
With a military operation looming, Afghan leaders met Thursday with tribal elders from the southern city of Marja to tell them that, indeed, government and NATO forces would soon rid the area of Taliban fighters and that Afghan police officers and soldiers would stay behind after the fighting was over.
CNN: Yemen announces cease-fire with rebels
The Yemeni government announced Thursday an end to its military operations against rebels in the north in a long-awaited truce deal between the two.
BUSINESS
For the latest business news: www.CNNMoney.com
Wall Street Journal: Dow Smiles At Latest on Jobs, Greece; Up 105 Points
The stock market posted broad gains Thursday as positive news out of Europe, the U.S. and China gave investors heart that the global economic recovery remains on track.
CNNMoney: Snowmageddon could cost up to 150,000 jobs in February
This month's blizzards are battering jobs. Economists estimate that between 90,000 and 150,000 jobs could be lost in February, as the snow kept people home from work and stalled hiring during the month.
Newark Star-Ledger: CitiMortgage offers option for N.J. homeowners in default
The fourth-largest mortgage servicer in the country is offering homeowners in New Jersey who are 90-days late on their payments a chance to walk away with cash.
Wall Street Journal: Drug Makers Decry Indian Patent Law
Multinational drug companies have pushed big-time into India in recent years after the country agreed to respect intellectual property rights for pharmaceutical products. But India's patent office and courts have repeatedly declined to defend patents widely accepted in other countries on some of the world's best-selling medicines. As a result, multinational pharmaceutical firms have been thrown a curve ball as they seek to expand in one of the world's fastest-growing markets.
In Case You Missed It
CNN's Chris Lawrence asks what would happen if the U.S. and Israel ended up in a military confrontation with Iran.
http://www.cnn.com/video/#/video/world/2010/02/11/lawrence.iran.war.games.cnn
New York Gov. David Paterson vows that he won't resign and will continue fighting for the issues.
http://www.cnn.com/video/#/video/politics/2010/02/11/sot.lkl.paterson.not.resign.cnn
Subscribe to the CNN=Politics DAILY podcast at http://www.cnn.com/politicalpodcast
And now stay posted on the latest from the campaign trail by downloading the CNN=Politics SCREENSAVER at http://www.CNN.com/situationroom