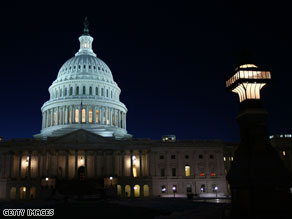 The Senate on Thursday confirmed 27 of President Obama's high-level nominees.
Washington (CNN) - President Barack Obama called Thursday for the Senate to continue acting on his nominations for high-level federal positions that have been stalled by politics.
In a White House statement, Obama said the Senate confirmed 27 nominees on Thursday, "many of whom had been awaiting a vote for months."
"At the beginning of the week, a staggering 63 nominees had been stalled in the Senate because one or more senators placed a hold on their nomination," Obama's statement said.
Noting the nominees had received "broad, bipartisan support" in committee consideration, Obama's statement said "many holds were motivated by a desire to leverage projects for a senator's state or simply to frustrate progress."
"It is precisely these kinds of tactics that enrage the American people," Obama's statement said.
Earlier Thursday, White House Press Secretary Robert Gibbs told reporters that former President George W. Bush had six nominees waiting more than a month for a Senate vote at the same point in his administration.
Calling Thursday's confirmations "a good first step," Obama's statement repeated a threat he made earlier in the week to use recess appointments to temporarily fill positions if the Senate failed to act in a timely manner on remaining nominees.
A recess appointment allows the president to temporarily fill positions without Senate confirmation when Congress is in recess. If the Senate then fails to subsequently confirm the appointment, the position becomes vacant again at the end of the congressional session.
The current session of Congress ends in early January 2011.