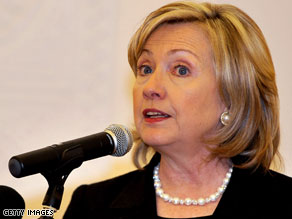 Clinton fears Iran is heading toward 'military dictatorship.'
(CNN) - U.S. Secretary of State Hillary Clinton said Monday that she fears Iran "is moving to a military dictatorship," and urged allies to back efforts to help change its course.
Clinton was responding to a question about whether the United States was getting ready for military action in Iran during a session broadcast by Arabic-language network Al-Jazeera.
"No, we are planning to bring the world community together," Clinton said at the town hall meeting in Doha, Qatar. She warned that the United States "will not stand by idly" while Tehran threatens neighbors and world.
Clinton reiterated her concern about Iran in a discussion with reporters later Monday.
"I think the civilian leadership is either preoccupied with its internal domestic political situation or ceding ground to the revolutionary guard, and that's a deeply concerning development," she said.