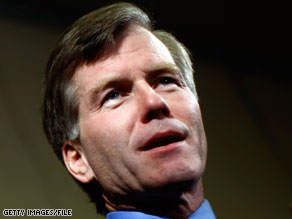 Gov. Bob McDonnell will host American Action's jobs forum next Tuesday in Washington.
Washington (CNN) – With the pivotal midterm elections just nine months away, a group of influential Republicans have launched an independent organization to help develop and promote policy ideas for GOP candidates and officeholders.
The new group, American Action, will have a kickoff event next Tuesday at the W Hotel in Washington – a jobs forum hosted by Virginia Gov. Bob McDonnell, a rising star in the Republican Party.
Modeled roughly after the Center for American Progress, a liberal think tank and messaging organization, American Action was developed by Fred Malek, a top Republican donor from Virginia who maintains close ties with GOP governors throughout the country.
After the 2008 election, Malek said he felt Republicans "were increasingly being defined by folks who opposed our point of view as the 'Party of No' and defined by those folks on the far right."
"We needed some means of bringing together all those who occupy the center-right point of view in a means that has some political vitality so we could speak with a common voice and have our views prevail," he said.
The group's operations will be managed by former Minnesota Sen. Norm Coleman. Its board of advisers includes former Florida Gov. Jeb Bush, former Florida Sen. Mel Martinez, former Missouri Rep. Jim Talent, former Minnesota Rep. Vin Weber, former New York Rep. Tom Reynolds and former Secretary of Education Margaret Spellings. Malek told CNN that more Republicans will be involved, but said their names have yet to be announced.
According to Malek, the group is meant to supplement, not step on, existing party organizations or GOP leadership on Capitol Hill. "We will focus on issues that bring us together, not those that divide," he said. "We are not going to focus on social issues."
American Action will have a policy arm - run by Douglas Holtz-Eakin, who was Sen. John McCain's economic adviser during his 2008 presidential campaign - which will bring together top thinkers from center and right-leaning think tanks to develop policy ideas.
Those recommendations will then be passed along to the group's political wing - managed by Rob Collins, a former aide to Rep. Eric Cantor - to convey the proposals to "key centers of influences, officeholders and candidates who share a center-right philosophy," Malek said.