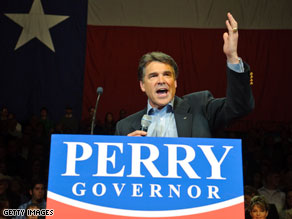 A new poll shows Gov. Rick Perry firmly in the lead.
Washington (CNN) - With just over two weeks to go until the March 2 Republican primary in Texas, a new poll suggests that Gov. Rick Perry holds a commanding lead over his two challengers.
According to the survey, conducted by Blum and Weprin Associates for five Texas newspapers, 45 percent of likely GOP voters support Perry's bid for a third full term in Austin. Meanwhile, 29 percent are backing Sen. Kay Bailey Hutchison and 17 percent favor former Wharton County GOP chairwoman Debra Medina. Also working in Perry's favor: only 8 percent of likely Republican voters are undecided.
But Perry does not have the race locked up. He must surpass the 50 percent threshold to avoid a six-week runoff against the second place finisher and his lead has slipped in recent weeks with the ascendance of the conservative Medina, a latecomer to the race. But Medina's controversial suggestion last week that the U.S. government may have been involved in the September 11 attacks could cause her to bleed support in the final weeks, allowing Perry to cross the 50 percent mark.
The telephone survey was conducted Feb. 2-10, before Medina's controversial remarks on Glenn Beck's radio show.
The poll also surveyed registered voters across the state and found that 53 percent said Texas is headed in the right direction, while 35 percent said the Lone Star state is headed in the wrong direction.
There's also a bit of good news in the data for Texas Democrats. The Democratic frontrunner, former Houston mayor Bill White, only trails Perry by 6 points in a hypothetical general election match-up, and trails Hutchison by only eight points. Still, the electorate appears largely unfamiliar with White: 65 percent of those surveyed had not heard enough about him to form an opinion.
The poll, conducted by telephone, of 1,508 registered Texas voters has a margin of error of plus or minus 2.5 percentage points, while the poll of 464 likely GOP primary voters has a margin of error of plus or minus 4.5 percentage points.