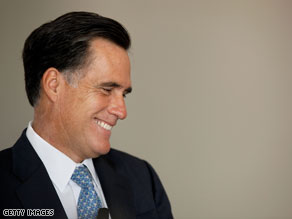 Mitt Romney's political action committee has a new executive director.
Washington (CNN) - Mitt Romney took another step towards an increasingly likely 2012 presidential bid Monday by naming Matt Rhoades the executive director of his political action committee, Free and Strong American PAC.
Rhoades is a Romney veteran, having served as communications director during the former Massachusetts governor's first presidential run in 2008. He was also deputy communications director for the Republican National Committee in 2006 and research director for George W. Bush's re-election campaign in 2004.
Rhoades replaces Pete Flaherty, who will now become a senior adviser to the PAC.
"Matt Rhoades has one of the sharpest political minds in the business," Romney said in a statement. "He's been a friend and an adviser for several years now and I'm pleased that he has agreed to run the day-to-day operations of my Free and Strong America PAC. He shares with me the view that 2010 is going to be a critical election year, with many races and lots of opportunities to elect Republican candidates."