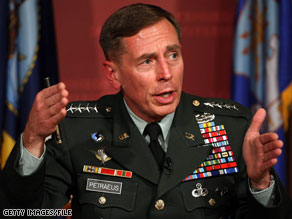 Gen. David Petraeus agreed to pick up Secretary of State Hillary Clinton Tuesday.
(CNN) - Luckily Secretary of State Hillary Clinton has friends in high places.
Clinton's plane broke down in Jeddah, Saudi Arabia where the nation's top diplomat held a town-hall meeting at a local college.
Fortunately, Gen. David Petraeus was nearby, having met with Saudi King Abdullah in Riyadh Monday.
Petraeus and his entourage agreed to pick Clinton up on their way home, but there is a small hitch. Because Clinton is a higher-ranking government official than Petraeus, the plane technically becomes hers when she steps foot on board.