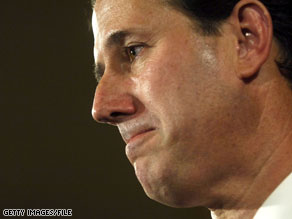 Rick Santorum will visit New Hampshire in April.
(CNN) - As other potential candidates remain coy about their presidential ambitions, Rick Santorum continues to make clear he's looking at a White House bid in 2012.
One day after announcing an appearance before the influential Iowa Christian Alliance on March 9, Santorum's spokeswoman confirmed that the former Pennsylvania Senator will make his first visit to New Hampshire on April 30. He will keynote the Cheshire County Republican Lincoln Day Dinner in Keene.
Since first making noise about a potential 2012 candidacy last year, Santorum has already made stops in the key early primary states of Iowa and South Carolina.