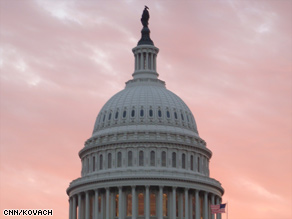 The CNN Washington Bureau's morning speed read of the top stories making news from around the country and the world.
WASHINGTON/POLITICAL
For the latest political news: www.CNNPolitics.com
CNN: Obama, GOP debate success of stimulus at one-year mark
President Obama marked the one-year anniversary of his controversial economic stimulus plan Wednesday, declaring the $862 billion package an unequivocal success that has created or saved millions of jobs. House Speaker Nancy Pelosi and members of Obama's cabinet also fanned out across the country in a slew of separate events designed to amplify the president's claims.
New York Times: Agreement Is Near on New Overseer of Banking Risks
The Senate and the Obama administration are nearing agreement on forming a council of regulators, led by the Treasury secretary, to identify systemic risk to the nation's financial system, officials said Wednesday.
CNN: House GOP pushes for televised jobs summit with Pelosi, Democrats
Top congressional Republicans called on House Speaker Nancy Pelosi Wednesday to hold a televised meeting with members of both parties aimed at crafting a bipartisan job growth bill.
CNNMoney: Treasury's quiet war
You probably know the Treasury Department as the agency that brought you the bank bailout, the AIG rescue and, of course, the IRS. But Treasury is also one of the key players in the war on terrorism and smack in the middle of nearly every major international conflict in which the United States is involved. The office is also playing an increasingly critical role at the center of U.S. foreign policy strategy in Korea, Iran, Afghanistan and throughout the Middle East.
Denver Post: Intermountain West loosens its embrace of Democrats
When Barack Obama accepted his party's presidential nomination 18 months ago in a floodlighted football stadium in Denver, he pinned the hopes of a new Democratic ascendancy on the Intermountain West. Now, the region is emerging as a test of the staying power of those forces. Although Democrats are facing difficult prospects across the electoral map, nowhere has their light dimmed as quickly as in the Rocky Mountains and Southwest.
Wall Street Journal: Obama Goes West to Aid Tight Races
President Barack Obama visits Western battleground states this week in a show of support for two of his party's vulnerable 2010 candidates, in particular embattled Senate Majority Leader Harry Reid of Nevada.
CNN Poll: Who are the Tea Party activists
Activists in the Tea Party movement tend to be male, rural, upscale, and overwhelmingly conservative, according to a new national poll.
Philadelphia Inquirer: Murtha House seat likely to disappear
The candidate who succeeds the late Rep. John P. Murtha (D., Pa.) in a special election this spring might not want to buy a home in Washington. That's because demographers estimate that Pennsylvania will lose at least one seat in the decennial reapportionment of House seats among the states after the 2010 Census – and some political analysts believe the 12th District would be an easy target for state lawmakers reshuffling boundaries before the 2012 elections.
Kansas City-Star: Democratic Kansas Sen. Tom Holland launches campaign for governor
Little-known Kansas state Sen. Tom Holland on Wednesday kicked off his campaign for governor, insisting voters deserve an alternative to Republican U.S. Sen. Sam Brownback. Holland's campaign represents the latest attempt by Democrats to find a viable candidate to challenge Brownback, whose campaign for governor is well under way.
San Francisco Chronicle: Feinstein won't make run for governor
Democratic Sen. Dianne Feinstein said Tuesday that she will not run for California governor this year, removing any doubt that Attorney General Jerry Brown will be the party's nominee.
NATIONAL
For the latest national news: http://www.CNN.com
CNN: TSA to swab airline passengers' hands in search for explosives
To the list of instructions you hear at airport checkpoints, add this: "Put your palms forward, please." The Transportation Security Administration soon will begin randomly swabbing passengers' hands at checkpoints and airport gates to test them for traces of explosives.
USA Today: Homeland Security reports losing guns
The nation's Homeland Security officers lost nearly 200 guns in bowling alleys, public restrooms, unlocked cars and other unsecure areas, with some ending up in the hands of felons. The problem, outlined in a new federal report, has prompted disciplinary actions and extra training.
Los Angeles Times: Joint effort targets border crime
In a politically sensitive operation at the Arizona- Mexico border, U.S. Border Patrol agents and Mexican federal police officers are training together, sharing intelligence and coordinating patrols for the first time.
USA Today: Census software plagued by defects
A key software system for the 2010 Census is behind schedule and full of defects, and it will have to be scaled back to ensure an accurate count of the U.S. population, according to a government watchdog report.
Los Angeles Times: California, other states face problem of growing pension liabilities
Coming up with the money to pay for future obligations is expected to burden state and local governments and school districts with huge retirement costs that could translate into higher taxes and fewer basic services for the next generation of taxpayers. In all, state governments face a $1-trillion shortfall, the difference between what they owe current and future retirees and what they expect to have available to pay promised benefits.
Boston Globe: DA rips gap in Bishop report
The Norfolk district attorney ramped up his criticism of the 1986 investigation of Seth Bishop's death yesterday, saying that it was "glaring'' and "striking'' that local police accounts of Amy Bishop's armed standoff at a local business were not included in the State Police report or considered as part of the prosecutor's decision about whether to pursue charges.
INTERNATIONAL
For the latest international news: http://edition.cnn.com
CNN: Eight missionaries freed from Haitian jail arrive in Florida
Eight of the 10 Americans once detained in Haiti landed late Wednesday at Miami International Airport, according to CNN affiliate WFOR.
Newsweek: Exclusive: Another Taliban Leader Captured in Pakistan
Another leader of the Afghan Taliban has been captured by authorities in Pakistan working in partnership with U.S. intelligence officials. Taliban sources in the region and a counterterrorism officials in Washington have identified the detained insurgent leader as Mullah Abdul Salam, described as the Taliban movement's "shadow governor" of Afghanistan's Kunduz province.
CNN: Obama, Dalai Lama meeting could 'irritate China very much'
Despite strong objections from the Chinese government, President Obama will meet the Dalai Lama, the exiled Tibetan spiritual leader, at the White House on Thursday. The meeting has the potential to further complicate Sino-U.S. tensions, rising in recent months. China has warned that it will certainly damage ties to Washington.
Wall Street Journal: U.S. Diplomat, Syrian President Meet in Damascus
Senior U.S. diplomat William Burns met with Syrian President Bashar Assad in Damascus Wednesday, the latest move in a growing rapprochement between Syria and Washington even as outreach to Syrian ally Iran appears to be faltering.
New York Times: Positive Views of Israel, Brought to You by Israelis
The Israeli government, deeply worried about the country's declining international image, began a campaign on Wednesday to turn every Israeli — and ultimately every Jew — into a traveling public relations agent. With a Web site backed by an advertising blitz, the Information and Diaspora Affairs Ministry began issuing Hebrew-language pamphlets to passengers on Israeli airlines and offering coaching courses to groups heading abroad. The message: "Are you fed up with the way we are portrayed around the world? You can change the picture."
Christian Science Monitor: Was Mossad behind Dubai assassination? Israel foreign minister isn't saying
Israel Foreign Minister Avigdor Lieberman declined Wednesday to confirm or deny whether Israel's intelligence agency, the Mossad, was involved in the assassination of Hamas leader Mahmoud al-Mabhouh in Dubai.
London Telegraph: British threat to Israel over Dubai Hamas assassination
Britain will consider severing its intelligence-sharing agreement with Israel if Mossad agents are proved to have stolen the identities of British passport holders, The Daily Telegraph has learnt.
BUSINESS
For the latest business news: www.CNNMoney.com
CNNMoney: U.S. to investigate Toyota Corolla steering problems
The U.S. will open an investigation Thursday to probe possible steering issues on about 500,000 Toyota Corollas. According to a National Highway Traffic Safety Administration official, about 363,000 Corollas from model year 2009 and 136,000 from 2010 could be affected.
Wall Street Journal: SEC Clashes With Cuomo Over Firing In BofA Case
In a swipe at New York Attorney General Andrew Cuomo, the Securities and Exchange Commission said in a court filing that the December 2008 firing of Bank of America Corp.'s general counsel had nothing to do with his opinion about ballooning losses at Merrill Lynch & Co. just before the securities firm's takeover by the giant bank. he SEC's court filing sets up a showdown between two securities regulators whose relationship has been fraught with tension for years.
Bloomberg: SEC Said to Use BofA Enforcement Talks to Press Proxy Rule
The Securities and Exchange Commission pressed Bank of America Corp. during enforcement talks to give shareholders more power to oust directors, after years of struggling to pass similar rules covering all U.S. companies, people with direct knowledge of the effort said.
Bloomberg: Leading Economic Index in U.S. Probably Rose for 10th Month
The index of U.S. leading indicators probably rose in January for a 10th straight month, pointing to an economy that will keep expanding through the first half of this year, economists said before a report today.
In Case You Missed It
The TSA launches a new airport security program that includes swabbing passengers' hands for traces of explosives.
http://www.cnn.com/video/#/video/us/2010/02/17/meserve.tsa.hand.swab.cnn
Subscribe to the CNN=Politics DAILY podcast at http://www.cnn.com/politicalpodcast
And now stay posted on the latest from the campaign trail by downloading the CNN=Politics SCREENSAVER at http://www.CNN.com/situationroom