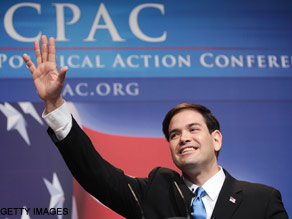 Marco Rubio opened CPAC Thursday with harsh attacks on the Obama administration.
Washington (CNN) - Marco Rubio, who has been transformed from a little-known former state legislator into a conservative superstar in less than a year, opened the annual Conservative Political Action Conference with a series of harsh attacks on the Obama administration and a familiar-sounding ode to smaller government.
Rubio leads his Republican primary rival, Florida Gov. Charlie Crist, in state polling. "They have used a severe depression as an excuse to implement the statist policies they have longed for so long," Rubio said of the Democrats who control the White House and Congress. "They are using this downturn as cover not to fix America but to change America."
Rubio entered the conference with high expectations. Conservative Republicans and Tea Party activists frustrated with President Obama have elevated the former Florida House Speaker into a de facto standard-bearer for a resurgent movement as the 2010 midterm elections approach.
The 38-year old Rubio, who was thought to be a long-shot when he began his Senate bid a year ago, embraced his stardom before an audience full of college-aged conservatives who traveled to Washington for the conference. His staff handed out campaign stickers and papered nearly every seat in the Marriott ballroom with fundraising solicitations.
"We are witnessing the single greatest political pushback in American history," Rubio said to cheers. He added: "2010 is a referendum on the very identity of our nation."
Saying that Americans "are looking for leaders who will offer a clear alternative" to Democrats, Rubio rattled off a litany of standard conservative proposals that anchor his campaign - lowering taxes, helping small business create jobs and showing no mercy to terrorists.
Rubio was introduced by one of his most prominent supporters, South Carolina Sen. Jim DeMint, who bucked many of his fellow Republicans on Capitol Hill last year to endorse Rubio instead of Crist.
"I would rather have 30 Marco Rubios in the Senate than 60 Arlen Specters," DeMint said, as man in the audience costumed in Revolutionary-era garb shouted "Benedict Arlen!"
Crist's campaign hammered Rubio after the speech, claiming that Rubio is not being straight about his record.
"While Speaker Rubio claims he will not be co-opted by big government, his record as a Miami lobbyist while serving simultaneously serving in the legislature demonstrates he is willing to be co-opted by much worse," said Andrea Saul, a spokeswoman for Crist.