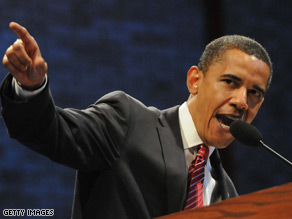 President Obama wants the government to have the power to block excessive health insurance rate increases.



Washington (CNN) - The Obama administration will propose legislation that would allow the government to block excessive rate increases by health insurance companies, a senior administration official told CNN Sunday.
The official could not speak on the record because the White House has not yet formally announced the proposal.
Word of the administration plan comes as the White House was to unveil President Barack Obama's latest health insurance reform proposal at 10 a.m. ET Monday.
The House and Senate have passed their own versions of health care reform. The new Obama plan is expected to attempt to smooth the differences.
The proposal seeks to put "American families and small business owners in control of their own health care," the official said. It stems from discussions that have taken place with the House and the Senate, the official said.
Obama will propose changes that include eliminating the so-called "Nebraska deal," a provision worked in by Sen. Ben Nelson, a Nebraska Democrat, that exempts that state from paying increased Medicaid expenses, the official said.
The president also plans to include a series of measures proposed by Republicans to eliminate waste, fraud and abuse; and the introduction of a new provision to prevent arbitrary insurance rate hikes like a recent 39 percent increase in California.
A televised bipartisan discussion on health care reform is scheduled to take place on Thursday. Obama believes the discussion "will be the most productive if Democrats come to the table with a consolidated proposal" - what the president is releasing Monday, the official said.
Obama "hopes the Republicans will follow suit and come with their own unified proposal," the official said. "He'll be open to Republican ideas, and he hopes they'll be open to ours."
The legislation on insurance rates "would grant the federal health and human services secretary new authority to review, and to block, premium increases by private insurers, potentially superseding state insurance regulators," the New York Times reported Sunday night, citing administration officials.
"The bill would create a new Health Insurance Rate Authority, made up of health industry experts that would issue an annual report setting the parameters for reasonable rate increases based on conditions in the market."
The officials said they believe such legislation would take effect immediately after a health care reform bill is signed into law.
- CNN's Ed Henry contributed to this report