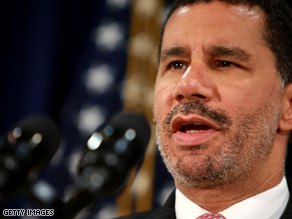 According to a new survey, New York Gov. David Paterson holds a 35 percent favorability rating among New York state voters.
(CNN) - Two days after he announced he would seek a full term as New York governor, a new poll suggests that David Paterson faces a rough road to victory.
According to a Siena College Research Institute survey released Monday morning, 35 percent of New York state voters have a favorable view of Paterson and 55 percent hold an unfavorable view of him. The poll also indicates that only 22 percent say Paterson is doing an excellent or good job as governor, and more than three out of four say he is doing a fair or poor job.
"After three months of seeing modest gains in his favorability and job performance ratings, Governor Paterson has lost ground with voters over the last month," says Siena pollster Steven Greenberg.
In a hypothetical Democratic primary matchup with New York State Attorney General Andrew Cuomo, Paterson trails by 42 points. Cuomo, the son of former three-term New York Gov. Mario Cuomo, has yet to formally say if he will challenge Paterson.
"David Paterson has done nothing to cut into the huge lead Andrew Cuomo enjoys in a potential Democratic primary. In fact, the lead has now expanded to 64 percent to 22 percent, including a nearly 20-point lead for Cuomo with African American voters," adds Greenberg.
According to the poll, Cuomo tops former Rep. Rick Lazio, the probable GOP nominee, 63 percent to 26 percent in a hypothetical general election matchup, while Lazio leads Paterson 46 percent to 39 percent.
In his announcement Saturday, Paterson denounced what he described as a recent smear campaign in the press.
"This governor is not going to quit because tabloid newspapers print rumors and innuendo and lies all the time waving the banner of a newspaper that could have cleared up the facts and chose not to do so," he said.
The comments are an apparent reference to a Times article published Friday painting the governor as an aloof and unpredictable executive who has often chosen cocktail parties and other social functions over his gubernatorial duties. Paterson's office strongly denied the article's allegations. Two-thirds of people questioned in the Siena poll say they didn't believe the rumors, while only 22 percent of voters believed that the Governor may very well have acted inappropriately in office.
Paterson was lieutenant governor when a sex scandal led to then-Gov. Eliot Spitzer's departure from the office in March 2008.
The Siena College poll was conducted February 14-19, with 805 New York registered voters questioned by telephone. Paterson announced his election bid on February 20. The survey's overall sampling error is plus or minus 3.5 percentage points.
– CNN's Alex Mooney contributed to this report
Follow Paul Steinhauser on Twitter: @psteinhausercnn