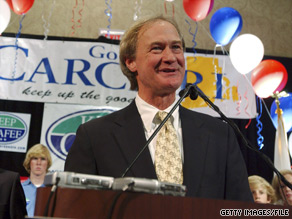 Lincoln Chafee holds a narrow lead in Rhode Island's gubernatorial race, according to a new poll.
(CNN) - Republican-turned-independent Lincoln Chafee of Rhode Island has a narrow lead in his state's gubernatorial race, according to a new survey conducted by Brown University.
The poll, released late Tuesday, shows that the former Republican senator would defeat the leading Democratic candidate, State Treasurer Frank Caprio, by 6 points, 34-28 percent.
Republican candidate John Robitaille, a former aide to current Gov. Don Carcieri, registers 12 percent in the survey. About a third of voters say they remain undecided.
The poll also said that Chafee would soundly defeat state Attorney General Patrick Lynch, another Democrat seeking the gubernatorial nomination, by a 32-17 percent margin. In both scenarios, Chaffee draws support from a third of Democratic voters and 40 percent among independents.
Caprio holds a 9-point lead in a Democratic primary matchup with Lynch, 30-12 percent. Close to 50 percent of Democrats are undecided.
The poll also finds a slight majority of Rhode Islanders, 52 percent, believe President Obama's stimulus measure has not had an effect on the nation's economy, while 58 percent said it has not helped their local community. Rhode Island has the nation's third highest unemployment rate – behind Michigan and Nevada – at 12.9 percent, according the Bureau of Labor Statistics.
Chafee, the lone Republican to vote against authorization for the war in Iraq, served in the Senate from 1999 until his defeat in 2006. He left the Republican Party in 2007, saying at the time, "It's not my party any more."
The poll surveyed 605 registered voters from February 9-12 and carries a sampling error of 3.9 percent.