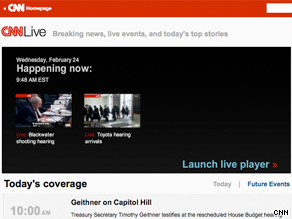 Wacth coverage of major events on CNN.com/live.
(CNN) - Toyota Chairman Akio Toyoda testifies before the House Oversight and Government Reform Committee Wednesday about the gas pedal recall.
Transportation Secretary Ray LaHood and National Highway Traffic Safety Administration Administrator David Strickland will also appear before the committee. Live coverage of the Toyota hearing begins at 11 a.m. ET: Watch it live.
Other live highlights Wednesday on CNN.com:
– Secretary of State Hillary Clinton testifies before two congressional committees at 10:30 a.m. ET and 2:30 p.m. ET. Watch the hearings live.
– Treasury Secretary Timothy Geithner testifies before the House Budget Committee at 10 a.m. ET. Watch the hearing live.
– Federal Reserve Chairman Ben Bernanke testifies before the House Financial Services Committee on "Monetary Policy and the State of the Economy" at 10 a.m. ET. Watch the hearing live.
– President Obama meets with business leaders at 1 p.m. at the St. Regis Hotel here in the nation's capital. Watch the meeting live.
This schedule is subject to change.
Follow Mark Preston On Twitter: @prestoncnn