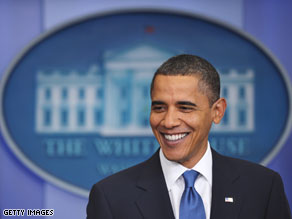 President Obama is set to meet with Republicans on Thursday to discuss health care reform.
Washington (CNN) - President Barack Obama will meet with Democratic and Republican leaders at a much-publicized health care summit Thursday that many believe will be long on discourse but short on real bipartisan consensus.
Critics have said the nationally televised six-hour summit basically will amount to a public relations stunt.
"This is about theater," said Sen. John Cornyn, a Texas Republican. "This is not about substance, unfortunately."
White House spokesman Robert Gibbs rejected that assessment.
"It makes sense to have everybody in the same room," Gibbs said on CNN's "American Morning." "We're going to have a big table. We're going to listen to a lot of ideas."
But there didn't appear to be much mood Wednesday for compromise on Capitol Hill.