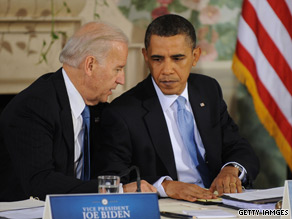 The president is likely to announce a new strategy for passing health care reform legislation on Wednesday, according to White House Press Secretary Robert Gibbs.
Washington (CNN) - President Barack Obama is likely to lay out a political road map Wednesday for passage of sweeping health care legislation, White House Press Secretary Robert Gibbs said Monday.
Gibbs said the president will talk about "the way forward" to pass a bill. Among other things, Obama is expected to advocate for an "up or down vote" in Congress if necessary, Gibbs added.
Multiple Democratic sources have told CNN that the emerging consensus plan is for the House of Representatives to pass the Senate bill and send it to Obama. A package of changes that mirror the president's plan would then be passed through both chambers under reconciliation rules, which require only 51 votes in the Senate.
Democrats lost their 60-vote, filibuster-proof Senate majority in January, when GOP Sen. Scott Brown won the Massachusetts Senate seat previously held by the late Sen. Ted Kennedy, a Democrat.
Observers note, however, that it remains unclear exactly which health care provisions can be approved under reconciliation, which is reserved for legislation pertaining to the budget. Republicans have angrily criticized the Democrats' potential use of reconciliation, arguing that the maneuver was never intended to be used for major policy overhauls along the lines of the health care bill.
Obama's mid-week remarks will also deal with the "substance" of health care reform, Gibbs added. White House aides say the president's speech will largely mirror the nearly $1 trillion compromise package Obama laid out one week ago. It may, however, be scaled back in some aspects, they added.