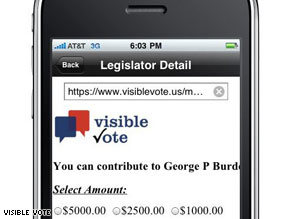 Campaign donations Visible Vote can now be made on an iPhone.
Washington (CNN) – Digital fundraising just got a lot more mobile.
The first application allowing people to donate to all congressional campaigns directly from their mobile phones launches Tuesday.
The app is rolled into a mobile program called Visible Vote, which is designed as a quick and simple way for people to text legislators their views on issues and then follow how lawmakers actually vote on bills. The app will be accessible on any iPhone, BlackBerry, Google Android phone or PC.
"People want to make a difference the moment they're moved by an issue," CEO of Visible Vote Paul Everton told CNN. "With mobile phones becoming the most common way to connect to the Web, we can finally give people one source to make small contributions from anywhere."

While previously individual campaigns have used mobile technology to try to raise money, Visible Vote is the first consolidated mobile portal for donations to all congressional races. By automatically and securely submitting required data to campaigns along with the contributions, the app complies with the Federal Election Commission's recordkeeping rules.
Sixty thousand people currently use Visible Vote. While the application currently only allows donations to congressional races, the technology can be expanded to presidential and local races.