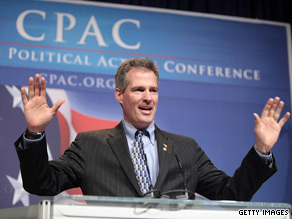 Brown will campaign for McCain later this week.
Washington (CNN) - Some new details have emerged about Sen. Scott Brown's trip to Arizona later this week to campaign for fellow Republican John McCain.
McCain's re-election campaign tells CNN that Brown will team up with McCain Friday at a noontime rally at Grand Canyon University in Phoenix. On Saturday the two senators will head to Tucson to attend the University of Arizona-University of Southern California basketball game. The campaign says other events will also be scheduled for Saturday.
McCain, 73, is running for a fifth term in the Senate. The 2008 GOP presidential nominee served six years in the House before winning election to the Senate in 1986. McCain hasn't had a difficult re-election since 1992, but this year he's facing a primary challenge for J.D. Hayworth. The former House member served for six terms before losing his 2006 re-election bid. Hayworth, who stepped down last month as host of his conservative talk radio program in Phoenix, says he respects McCain's service but says McCain has been in Washington too long and isn't conservative enough.
Brown's victory in January in a special Senate election in Massachusetts energized the GOP. McCain endorsed Brown's bid for the Senate.
McCain's 2008 running mate, former Alaska Governor Sarah Palin, has announced that she'll travel to Arizona to campaign with McCain later this month. Palin's popularity with voters on the right could help McCain with some Republican voters who question his commitment to conservative values and goals.
On Monday, four Tea Party organizations in Arizona announced that they will not endorse any candidate in the Republican senate primary in Arizona.
Follow Paul Steinhauser on Twitter: @psteinhausercnn