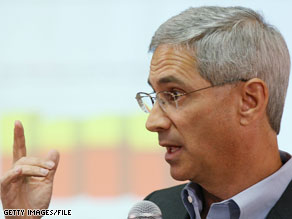 Steve Poizner's ad paints Meg Whitman as a 'liberal.'
(CNN) - California gubernatorial candidate Steve Poizner is putting heat on Republican primary rival Meg Whitman Tuesday, launching his first statewide television ad painting Whitman as a "liberal" who has engaged in "false negative attacks."
"California's in crisis. What's liberal Meg Whitman's weak response? False, negative attacks on Republican Steve Poizner's conservative solutions," the ad's narrator states. "Who can rescue California from liberal failure? Steve Poizner."
Poizner, the state's insurance commissioner, faces a 28 to 30 point deficit in a head-to-head matchups with Whitman, according to two surveys conducted in January. But the same poll showed nearly 4 in 10 Republican primary voters undecided. The primary is set for June 8.
Whitman, the billionaire former CEO of Ebay has run campaign ads for months introducing herself to voters and positioning herself as a moderate Republican.