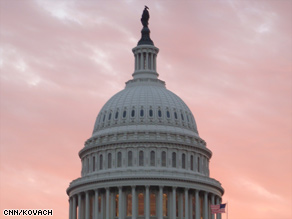 The CNN Washington Bureau's morning speed read of the top stories making news from around the country and the world.
WASHINGTON/POLITICAL
For the latest political news: www.CNNPolitics.com
CNN: Democrats rip GOP senator for blocking jobless benefits extension
Top Democrats tore into one of their Republican counterparts Monday for blocking an extension of unemployment benefits that would provide assistance to millions of jobless Americans. The Senate adjourned last week without approving extensions of cash and health insurance benefits for the unemployed after Sen. Jim Bunning, R-Kentucky, blocked the measure by insisting that Congress first pay for the $10 billion package. The emergency measure needed unanimous consent to pass.
CNNMoney: Fed's vice chairman to step down
Donald Kohn, the vice chairman of the Federal Reserve, announced plans Monday to resign from the U.S. central bank when his term ends in June. With three openings on the presidentially appointed Board of Governors, Obama has a unique opportunity to put his stamp on the Fed, which remains a largely independent agency.
Wall Street Journal: Deal Near on Banking Rules
Key senators were close to a deal on legislation to overhaul financial regulations, people familiar with the matter said, bringing the U.S. a step closer to sweeping changes to the way banks interact with consumers and the markets alike.
Politico: Pelosi's challenge: Hold the line
The world has changed a lot since the House passed its health care bill last fall. …After a year of competing proposals and controversy, the fate of the president's health care proposal rests with a small pocket of Democrats who are caught between the demands of party leaders in Washington and the discontent of angry voters back home. Some voted for earlier bills. Others didn't.
Politico: Rahm Emanuel and Lindsey Graham: D.C.'s odd couple
At a time when voters are clamoring for bipartisan cooperation in Washington, this unlikely pairing of White House chief of staff and Southern senator represents one of the highest-level conduits between the polarized political parties. Graham has had more in-person meetings with Emanuel than any other Republican lawmaker, roughly eight or 10 since Obama took office, aides said. The two men also talk regularly by phone.
Washington Post: Hotheaded Emanuel may be White House voice of reason
Rahm Emanuel is officially a Washington caricature. He's the town's resident leviathan, a bullying, bruising White House chief of staff who is a prime target for the failings of the Obama administration. But a contrarian narrative is emerging: Emanuel is a force of political reason within the White House and could have helped the administration avoid its current bind if the president had heeded his advice on some of the most sensitive subjects of the year: health-care reform, jobs and trying alleged terrorists in civilian courts.
New York Times: Paterson Is Said to Have Ordered Calls in Abuse Case
Gov. David A. Paterson personally directed two state employees to contact the woman who had accused his close aide of assaulting her, according to two people with direct knowledge of the governor's actions.
CNN: Harold Ford to pass on New York Senate bid
Former Democratic congressman Harold Ford, Jr. has decided to pass on a bid to unseat Sen. Kirsten Gillibrand, D-New York.
New York Times: G.O.P. Aims for California, but Rifts Arise
If Republicans are to have a serious chance of capturing control of the Senate in November, they are going to have to win in traditionally Democratic states like California, where Senator Barbara Boxer, a three-term Democrat, is showing signs of vulnerability. But before Republicans get a clear shot at Mrs. Boxer, they will have to overcome deep divisions within their own party — divides that reflect both the grass-roots energy surging through the conservative movement and the tensions between the party's moderate and conservative wings.
CNN: Brown to announce gubernatorial bid Tuesday
California Attorney General Jerry Brown plans to announce Tuesday that he's entering the race to be his state's next governor, three sources confirm to CNN. If elected, this would be the second time around for Brown, who served two terms as California Governor from 1975-1983. Already Brown has amassed at least a $12 million dollar war chest and he has attracted the support of big Hollywood kingmakers; David Geffen, Jeffrey Katzenberg and Steven Spielberg are among those who have publicly endorsed him.
Dallas Morning News: Can Republican gubernatorial candidates mend the rift by November?
The Republican primary for governor has been caustic and personal. A six-week runoff campaign, if it comes to that, could get even worse. So it won't be easy for the eventual winner to put Humpty Dumpty together again after today's votes are cast. And even if Gov. Rick Perry and Sen. Kay Bailey Hutchison can set aside the savage attacks and divisiveness, Democrats are lying in wait armed with all the mud they've slung at each other for more than a year.
NATIONAL
For the latest national news: www.CNN.com
CNN: Supreme Court to address limits of gun control
The court will ultimately decide two fundamental questions: Do strict state and local gun control laws violate the constitutional "right to keep and bear arms"? And can an individual's right to own a weapon extend beyond federal jurisdiction?
Washington Post: Same-sex marriage leads Catholic Charities to adjust benefits
Employees at Catholic Charities were told Monday that the social services organization is changing its health coverage to avoid offering benefits to same-sex partners of its workers - the latest fallout from a bitter debate between District officials trying to legalize same-sex marriage and the Catholic Archdiocese of Washington.
CNN: Town fears Army decision could cost it millions
City residents cheered when the Army announced in 2007 the arrival of a new brigade to Fort Stewart. The addition of nearly 10,000 people - soldiers, their families and extra personnel - was seen as a boon to many, a new way to benefit from the Army's expansion….But in April, the town was told that the additional brigade would not be arriving. The Army decided not to send additional soldiers to Georgia, denying the developers a need for their homes.
USA Today: Tap water contaminant 'castrates' frogs
An herbicide that contaminates the tap water consumed by millions of Americans has been found to produce gender-bending effects in male frogs, "chemically castrating" some and turning others into females, a study shows.
INTERNATIONAL
For the latest international news: http://edition.cnn.com
CNN: Thousands still without food, water in parts of quake-hit Chile
Nearly three days after an 8.8-magnitude earthquake, rescuers in the hardest-hit areas, including the city of Concepcion, Chile, and the Maule and Bio Bio regions, scrambled to reach possible survivors. Looting broke out as thousands of residents in southern and central Chile remained without food, water, electricity, gas and other basic services.
Miami Herald: Aid groups ready to help if needed
International aid agencies faced with back-to-back natural disasters in Haiti and Chile say they are well-equipped to manage both - if they are asked. There's no need to shift priorities away from Haiti just six weeks after it was shattered by a 7.0 magnitude earthquake following Saturday's 8.8 temblor in Chile, representatives of several aid agencies said.
CNN: Clinton arrives in Uruguay; plans Chile visit Tuesday
The U.S. secretary of state is expected to arrive in Santiago, Chile, on Tuesday, two days after her department "strongly" urged U.S. citizens to avoid tourism and nonessential travel to the South American nation and three days after an 8.8-magnitude earthquake killed more than 700 people.
Jerusalem Post: Clinton: Iran sanctions months away
The United States is working "expeditiously and thoroughly" to win new international penalties on Iran over its disputed nuclear program, US Secretary of State Hillary Rodham Clinton said Monday night. Clinton told reporters traveling with her in South America that a new sanctions resolution is likely to come before the United Nations Security Council sometime in the next several months.
Washington Post: McChrystal, others visit Marja, Afghanistan, as offensive enters governing phase
The initial phase of the military offensive in southern Afghanistan to wrest Marja from insurgent control has largely ended, but the more daunting task of building a credible government in the place of Taliban rule has just begun, according to senior U.S. and Afghan officials.
New York Times: Iraqis Awash in Gifts From Candidates
There are many ways to describe the campaign strategies now being employed in Iraq. Subtle is not one of them. Across the country, voters are reaping a windfall as candidates in Sunday's parliamentary elections offer gifts like heating oil and rice. When a candidate recently showed up in a poor village outside Baquba to distribute frozen chickens — in a literal homage to the political slogan "a chicken in every pot" — so many people rushed to get the free birds that many left disappointed after the supply ran out.
Wall Street Journal: Dubai Restricts Israeli Entry After Killing
Dubai's police chief said it will enforce an entry ban on Israeli dual nationals, the first sanction by the emirate following its allegations Israeli intelligence agents murdered a top Hamas leader there in January. Though the countries have no diplomatic ties, Israeli dual nationals, mostly business people, have entered the United Arab Emirates relatively unhindered under second passports.
Wall Street Journal: Venezuela Plotted to Kill Rival, Spain Says
Spain and Venezuela headed toward a potential diplomatic face-off after a Spanish judge on Monday accused Caracas of collaborating with rebel groups to assassinate Colombian President Álvaro Uribe and other top political figures.
The Moscow Times: Heads to Roll Over Poor Olympic Results
President Dmitry Medvedev promised Monday that heads would roll after Russia suffered its worst-ever performance at the Winter Olympics, warning "fat cat" sports officials to quit or be fired.
BUSINESS
For the latest business news: www.CNNMoney.com
Bloomberg: Greece Now, U.K. Next as Scots Ready for Pound Plunge
While the eyes of the world focus on Greece's debt crisis, investors in Edinburgh are busy preparing for the U.K. to be next. Turcan Connell, which caters to rich families, expects the pound to lose between 20 percent and 30 percent against the dollar once investors turn their sights on Britain as the government sells a record amount of debt. Sterling slid to a 10- month low versus the U.S. currency today.
New York Times: Data Shows Camrys Not Recalled Also Had Problems
Toyota has recalled six million cars in the United States over concerns about sudden acceleration. But an analysis of government documents shows that many Toyota Camrys built before 2007, which were not subject to recalls, have been linked to a comparable number of speed-control problems as recalled Camrys.
MarketWatch: GM reportedly recalling 1.3 million compact cars
General Motors Co. is recalling 1.3 million compact cars sold in North America over the past five years due to problems with power-steering functions, according to reports Tuesday. The recall covers 2005-2010 Chevrolet Cobalts and 2007-2010 Pontiac G5s sold in the U.S., as well as 2005-2006 Pontiac Pursuits sold in Canada, and 2005-2006 Pontiac G4s sold in Mexico, reports said, citing a GM statement.
Wall Street Journal: Miner Digs for Ore in the Outback With Remote-Controlled Robots
Rio Tinto is connecting its Australian mines to satellite links so workers more than 800 miles away can remotely drive drilling rigs, load cargo and even use robots to place explosives to blast away rock and earth. The company's Perth operations center, which relies on banks of high-tech equipment to manage one of the oldest and dirtiest jobs around, is a harbinger of new techniques that are allowing miners to go to more remote places, dig deeper and get ore to the market more quickly.
In Case You Missed It
CNN's Kate Bolduan reports on Chicago's controversial handgun ban and its upcoming Supreme Court appeal.
http://www.cnn.com/video/#/video/us/2010/03/01/bolduan.chicago.gun.battle.cnn
CNN's Candy Crowley reports on the nasty intra-party political fight in the Texas GOP Gubernatorial primary.
http://www.cnn.com/video/#/video/politics/2010/03/01/crowley.tx.gov.showdown.cnn
Subscribe to the CNN=Politics DAILY podcast at http://www.cnn.com/politicalpodcast
And now stay posted on the latest from the campaign trail by downloading the CNN=Politics SCREENSAVER at http://www.CNN.com/situationroom