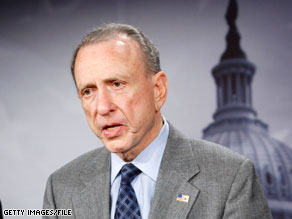 Sen. Arlen Specter is making gains in his difficult re-election bid.
(CNN) - Democratic Sen. Arlen Specter of Pennsylvania is making gains in his difficult bid this year for re-election, according to a new poll.
A Quinnipiac University survey of Pennsylvania voters released Tuesday morning indicates that Specter leads Republican challenger Pat Toomey 49 to 42 percent in a hypothetical general election matchup. That's up from a 44 percent tie in a Quinnipiac poll conducted in December.
Toomey is a former congressman and former head of the Club for Growth, a limited-government and anti-tax organization. Specter, a five-term senator, switched parties from Republican to Democrat last spring, saying at the time that the difficulty in winning the Republican primary against Toomey was a factor in his decision.
The Quinnipiac poll also indicates that Specter's approval rating stands at 48 percent, with 45 percent disapproving of the job he's doing as senator. The 48 percent approval rating is up 4 points from October.
According to the survey, Specter leads Rep. Joe Sestak 53 to 29 percent in a Democratic primary matchup. Sestak, a two-term congressman from southeastern Pennsylvania and former Navy admiral, is challenging Specter in May's Democratic primary.
"Sen. Arlen Specter seems to be having a good winter politically. He is back ahead of Republican Pat Toomey after having been essentially tied with him since last summer, and there remains no evidence that his primary challenger, Congressman Joe Sestak, has made much progress as we get within three months of the May primary," says Peter Brown, assistant director of the Quinnipiac University Polling Institute.
But the survey also indicates that Pennsylvania voters, by a 52 to 38 percent margin, say Specter doesn't deserve another term in the Senate.
A Franklin and Marshall College poll released last week indicated that 44 percent of likely voters back Toomey, with 34 percent supporting Specter and 16 percent undecided. But according to the survey, among all registered voters in Pennsylvania, Specter leads Toomey 33 percent to 29 percent, with nearly 3 in 10 undecided.
A Franklin and Marshall survey conducted last month indicated Toomey had a 14-point lead among likely voters and was deadlocked with Specter among registered voters.
The Quinnipiac University poll was conducted February 22-28, with 1,452 Pennsylvania voters questioned by telephone. The survey's overall sampling error is plus or minus 2.6 percentage points
Follow Paul Steinhauser on Twitter: @psteinhausercnn