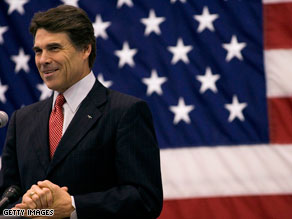 Texas Gov. Rick Perry is running for a third term but faces two Republican opponents.
Dallas, Texas (CNN) - Texas Republican Party chairwoman Cathie Adams is in the somewhat unusual position of having endorsed one of the candidates in Tuesday's GOP gubernatorial primary.
Though it happens from time to time, party chairs don't often take sides in contested primaries, especially high-profile slugfests like the one in Texas.
Adams threw her support to Gov. Rick Perry over Sen. Kay Bailey Hutchison before she became party chairwoman in October, and says that as the head of the state party, she has tried to remain as neutral as possible (despite appearing with Perry at multiple campaign events).
But she's hoping Perry crosses the 50 percent threshold needed to avoid an April runoff against the second-place finisher. A runoff, she said, would be bad for the state party.
"I think it would be very good for our state if we do not have a runoff," Adams told CNN.
"It's going to be very difficult in a three person race for anyone to get over 50 percent," she said. "I am hopeful for that because I want the down-ballot races to get more attention as we go from here into November, not just for economic reasons but also to draw more attention to other candidates."
Six more weeks of campaigning will exhaust donors and draw volunteer energies away from other Republican candidates in the state, she argued.
"This is all volunteer driven, and its very difficult to get people for an extended period of time to keep pouring their hearts into the these campaigns," Adams said.
Though Perry is heavily favored to win the GOP nomination, runoff or not, Adams said she will support whomever becomes the nominee. "Whoever wins this, I am going to make sure everything is done fairly," she said.
The winner of the primary will face the likely Democratic nominee, former Houston Mayor Bill White. White, of course, is hoping for a runoff and the prospect of six more weeks of GOP infighting as he travels the state introducing himself to voters.