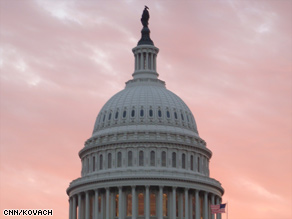 The CNN Washington Bureau's morning speed read of the top stories making news from around the country and the world.
WASHINGTON/POLITICAL
For the latest political news: www.CNNPolitics.com
CNN: Senate passes $10 billion jobless benefits measure
The Senate voted Tuesday to pass a $10 billion measure to extend benefits for unemployed workers and fund road projects after Sen. Jim Bunning agreed to end his filibuster. President Obama praised the effort after signing the bill late Tuesday.
CNN: Obama's new health care reform plan to include GOP ideas
In a last-ditch attempt to craft a bipartisan health care reform bill, President Obama will release a new proposal Wednesday that will include Republican ideas on tort reform and health savings accounts, according to Democratic officials familiar with the plans.
CNNMoney: Senate panel mulls consumer protection deal
The Senate might break its impasse on financial overhaul if it moves forward with a proposal that would put a consumer financial protection watchdog inside the Federal Reserve.
Bloomberg: Google Wants U.S. to Weigh Challenging China in WTO
The Obama administration is weighing the merits of taking China's censorship of Google Inc. to the World Trade Organization as an unfair barrier to trade, a move that could further raise diplomatic tensions.
New York Times: Investigators Are Told of Paterson Bid to Quiet Accuser
A key figure in the domestic abuse scandal bedeviling Gov. David A. Paterson told investigators that the governor phoned to enlist her help in quieting the accuser, according to a person with knowledge of her account. … Fallout from the controversy continued on Tuesday.
Albany Times-Union: Capitol pressure rises
Battered by calls for his resignation, Gov. David Paterson will meet with his cabinet this morning to discuss the departure of State Police Superintendent Harry Corbitt - the latest casualty of a scandal involving a top administration official that weighs heavier with each passing day.
CNN: Rangel: No plans to step aside as committee chairman
Even after a senior House Democratic aide told CNN that House Ways and Means Committee Chairman Charlie Rangel would likely temporarily step down from his post, Rangel emerged from a meeting with House Speaker Nancy Pelosi Tuesday insisting he has no plans to step aside.
Denver Post: Bennet to unveil reforms targeting filibuster, lobbying
Joining a growing number of lawmakers angry at Washington, U.S. Sen. Michael Bennet today will announce an ambitious set of reforms to change many of the rules under which his colleagues work, including an effort to restrict earmarks and limit the filibuster. Using a scheduled midmorning speech on the Senate floor, Bennet will propose a package of bills that would cut a broad swath across a set of practices and procedures that have become notorious symbols of a gridlocked Capitol.
CNN: Perry wins GOP primary in Texas, White takes Democratic ballot
Texas Gov. Rick Perry won his state's Republican gubernatorial primary outright on Tuesday, avoiding a potentially costly runoff election against Sen. Kay Bailey Hutchison.
New York Times: Possibility of Senate Run, Nurtured and Abandoned
Mr. Ford's decision not to run for the Senate, which he disclosed on Tuesday, came after he reached out to dozens of donors, advocates and political leaders. In private conversations, the same worries emerged: that a race against Ms. Gillibrand would be a brutal fight, dominated by endless debates about when he began paying taxes as a New York resident and the sincerity of his support for gay marriage and abortion rights.
New York Times: Zuckerman Decides Not to Run Against Gillibrand for Senate
Mortimer B. Zuckerman, the real estate and media tycoon, has decided not to run for Senator Kirsten E. Gillibrand's seat this year, he said in an interview Tuesday night.
St. Petersburg Times: Once a model for new breed of Republican, Crist now model for endangered Republican
The governor who gave his final State of the State speech Tuesday night was remarkably different from the man who delivered his first formal address just three years ago.
Philadelphia Inquirer: Specter assails Sestak on campaign payroll
Rep. Joe Sestak's payroll has emerged as a potential wedge issue in the Democratic primary for the U.S. Senate, with Sen. Arlen Specter demanding that Sestak explain why a majority of his campaign employees appear to earn less than the minimum wage of $7.25 an hour.
NATIONAL
For the latest national news: www.CNN.com
CNN: Justices debate Chicago handgun ban
Chicago's 28-year-old strict ban on handgun ownership appeared in trouble Tuesday at the U.S. Supreme Court in a potentially far-reaching case over the ability of state and local governments to enforce limits on weapons.A conservative majority seemed ready to say the U.S. Constitution gives individuals greater power than states - or at least equal power - as far as possessing certain firearms for self-protection.
CNNMoney: $238 billion loss for U.S. mail; Saturday delivery may end
Snail mail might soon get even slower. The cash-strapped U.S. Postal Service announced Tuesday that it will incur about $238 billion in losses in the next 10 years if Congress doesn't permit it to revamp its outdated business model. The agency is proposing an adjusted mail service schedule, which will likely cut Saturday delivery, and eliminating its prepaid retiree health benefits. That alone, it says, will cut $90 billion in costs over the next 10 years.
Washington Post: New formula to give fresh look at U.S. poverty
The Obama administration Tuesday embraced an alternative way of defining what it means to be poor, stepping gingerly into a long-running debate over whether to revise the method that has been used to measure poverty for decades. The way poverty is defined is at once arcane and politically volatile, because the number of people who are considered poor has broad implications for the nation's economic self-image and the way billions of federal dollars are distributed for Medicaid, welfare, food stamps and other aid programs.
USA Today: USA pays price for food-borne illness: $152B a year
Food-borne illnesses cost the United States $152 billion a year, a tab that works out to an average cost of $1,850 each time someone gets sick from food, a report by a former Food and Drug Administration economist says.
USA Today: TSA polishes shoe-scanner plan
The Transportation Security Administration is reviving an idea that aims to take one of the biggest hassles out of airport security: removing your shoes at a checkpoint. A dozen companies have designed shoe scanning machines, and the TSA says it plans to buy 100 of the devices by next year.
INTERNATIONAL
For the latest international news: http://edition.cnn.com
CNN: Death toll at 795 in Chile quake, government says
The death toll from Saturday's 8.8-magnitude earthquake in Chile reached 795 on Tuesday, the president's office said. Officials say the tally likely will increase in coming days as search-and-rescue crews dig into collapsed buildings and discover more bodies.
Wall Street Journal: Global Aid Is No Relief for Small Haitian Businesses
After the Jan. 12 quake, which killed as many as 300,000 people, the world launched a massive relief effort to bring food, water, medicine and other supplies to needy Haitians. The U.S. alone has spent more than $665 million, official figures show. But only a tiny fraction of that money is being spent in Haiti, buying goods from local businesses. Worse, the aid is having the unintended consequence of making life harder for many businesses here, because of competition from free goods brought in by relief agencies.
Bloomberg: MetaBank Says Dubai Suspects Used Fraud to Get Prepaid Cards
Suspected assassins of a Hamas leader in Dubai "fraudulently" acquired prepaid payroll cards and stole identities to obtain jobs at U.S. companies, according to card-issuer MetaBank. Authorities informed Meta, a unit of publicly traded Meta Financial Group Inc., that the suspects used fake passports to get cards issued by the firm and other banks, according to an e- mailed statement from Meta yesterday. The lender, rooted in regions of Iowa and South Dakota tied to farming, said it followed proper procedures and that the people weren't on federal lists designed to block potential terrorists.
Washington Post: In Afghanistan, Karzai's invitation to Taliban creates discord and confusion
Afghan President Hamid Karzai's public invitation to the Taliban to attend a peace conference this spring has sparked disagreement and confusion among the many players in Afghanistan over the shape and speed of negotiations and what they should ultimately accomplish. …the Obama administration has argued that substantive talks should wait until the military balance has shifted more sharply in favor of the coalition. But the administration's British allies, facing strong domestic disapproval over the long-running war, appear eager to see negotiations begin sooner rather than later.
Los Angeles Times: Maliki's hold on power uncertain
The prime minister is widely popular among Iraqis but disliked by many fellow politicians, leaving the nation's leadership structure up for grabs as election day approaches.
Times of London: Argentina celebrates diplomatic coup as Hillary Clinton calls for talks over Falklands
Argentina was celebrating a diplomatic coup yesterday in its attempt to force Britain to accept talks on the future of the Falkland Islands, after a two-hour meeting in Buenos Aires between Hillary Clinton and President Cristina Fernández de Kirchner. Responding to a request from Mrs Kirchner for "friendly mediation" between Britain and Argentina, Mrs Clinton, the US Secretary of State, said she agreed that talks were a sensible way forward and offered "to encourage both countries to sit down".
New York Times: Interference Seen in Blackwater Inquiry
An official at the United States Embassy in Iraq has told federal prosecutors that he believes that State Department officials sought to block any serious investigation of the 2007 shooting episode in which Blackwater Worldwide security guards were accused of murdering 17 Iraqi civilians, according to court testimony made public on Tuesday.
Der Spiegel: German High Court Limits Phone and E-Mail Data Storage
Germany's highest court has rejected a controversial law requiring data on telephone calls and e-mail traffic to be stored for six months for possible use by law enforcement. Data stored so far must be deleted immediately, and strict controls must be put in place before the law can come into force again.
BUSINESS
For the latest business news: www.CNNMoney.com
Wall Street Journal: Europe's Original Sin
Europeans are blaming financial transactions arranged by Wall Street for bringing Greece to the brink of needing a bailout. But a close look at the country's finances over the nearly 10 years since it adopted the euro shows not only that Greece was the principal author of its debt problems, but also that fellow European governments repeatedly turned a blind eye to its flouting of rules.
Wall Street Journal: U.S. Probes Bearish Euro Bets
The Justice Department has launched an investigation into whether hedge funds might have banded together to drive down the value of the euro, people familiar with the matter say.
CNNMoney: Nissan recalls 540,000 trucks and minivans
Nissan is recalling 540,000 vehicles worldwide to fix faulty brake pedal pins and inaccurate fuel gauges. The Japanese automaker's North American division said no accidents or injuries have been reported, but the company is initiating the recalls based on three reports of brake pedal pins partially disengaging, hindering braking ability.
CNNMoney: GM recall – 1.3 million Chevrolets and Pontiacs
General Motors has recalled 1.3 million Chevrolet and Pontiac models in North America for power steering failures that are tied to 14 crashes and one injury in the United States, the company said Tuesday.
In Case You Missed It
Jerry Brown wants another shot at running California. Jessica Yellin looks at this unique politician and his history.
http://www.cnn.com/video/#/video/politics/2010/03/02/yellin.brown.ca.gov.cnn
Subscribe to the CNN=Politics DAILY podcast at http://www.cnn.com/politicalpodcast
And now stay posted on the latest from the campaign trail by downloading the CNN=Politics SCREENSAVER at http://www.CNN.com/situationroom