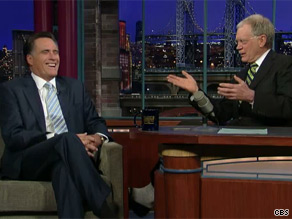 Romney appeared on The Late Show with David Letterman Tuesday.
(CNN) - While Sarah Palin was firing off jokes in front of Jay Leno Tuesday night, potential Republican rival Mitt Romney was telling a few of his own during an appearance on The Late Show with David Letterman.
Romney recounted his widely-publicized skirmish with rapper Sky Blu on a recent flight from Vancouver, during which Sky Blu allegedly accosted Romney after the former presidential candidate asked him to put his seat in the upright position.
"The fellow in the seat in front of my wife put his seat back during the takeoff procedure and as we have all heard 10,000 times, 'Please put your tray table and the seat back in the upright and locked position.'" Romney said. "So I tapped him on the shoulder and reminded him of that direction, and…he didn't like that by the way and he broke my hair."
"He broke his hair, ladies and gentlemen!" Letterman quipped back.
Blu, a member of the group LMFAO has claimed that Romney "put the vulcan grip on me" as he was trying to fall asleep.
The former Massachusetts governor, who is plugging a new book "No Apology: The Case for American Greatness," also acknowledged on Letterman he is "keeping the door open" to a presidential run in 2012.
"Of course he is running, I can tell by the cologne," Letterman retorted.