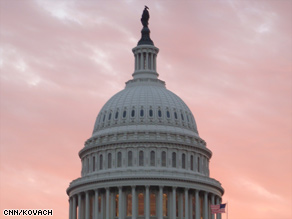 The CNN Washington Bureau's morning speed read of the top stories making news from around the country and the world.
WASHINGTON/POLITICAL
For the latest political news: www.CNNPolitics.com
CNN: Retiring Democrat denies harassment allegations
Rep. Eric Massa, D-New York, denied reports Wednesday that he harassed one of his Capitol Hill staffers – announcing, however, that he would not seek re-election because of health concerns. A spokeswoman for House Majority Leader Steny Hoyer acknowledged that allegations of misconduct against Massa, 50, were under review by the House Ethics Committee.
CNN: Rangel temporarily steps down as House Ways and Means chair
Rep. Charlie Rangel temporarily stepped down as chairman of the House Ways and Means Committee on Wednesday, a decision forced by a growing storm of ethics controversies threatening the veteran congressman.
New York Times: Many Potential Successors if Rangel Retires
Representative Charles B. Rangel's decision to relinquish the coveted chairmanship of the House Ways and Means Committee has raised a once-unthinkable possibility: that after 39 years in Congress, he will not seek re-election this year. If he decided not to run, it would touch off an intense battle for what has been, for the past 20 Congressional elections, the safest of safe House seats. The last time that Mr. Rangel faced a serious Democratic challenger was 1994, when he defeated his primary opponent by nearly two to one.
CNN: Obama outlines final health care plan, urges Congress to act
President Obama outlined his final version of a health care bill Wednesday and urged Congress to bring the plan to a conclusive vote within the next few weeks. He also came out in support of a controversial legislative maneuver known as reconciliation, which would allow changes to the health care bill to be passed by the Senate with only 51 votes - a bare legislative majority.
Politico: Exclusive: RNC document mocks donors, plays on 'fear'
The Republican National Committee plans to raise money this election cycle through an aggressive campaign capitalizing on "fear" of President Barack Obama and a promise to "save the country from trending toward socialism."
CNN: Paterson faces ethics charges over World Series tickets
New York's Commission on Public Integrity is charging Gov. David Paterson with an ethics violation for accepting free tickets to the first game of last year's World Series, the commission said Wednesday. …Paterson, who announced last week that he would not run for election to a full term, has faced controversy since news reports charged that his aide was involved in a domestic violence incident with a woman and that state police later allegedly pressured her to keep quiet.