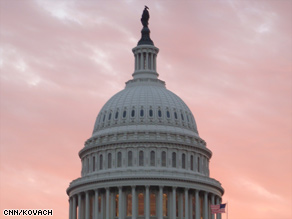 The CNN Washington Bureau's morning speed read of the top stories making news from around the country and the world.
WASHINGTON/POLITICAL
For the latest political news: www.CNNPolitics.com
CNN: What's next for health care reform?
President Obama has made it clear that it's time for a simple up and down vote on his health care plan, noting that Americans are "waiting for us to act." But getting to the vote might not be so simple. Two Democratic aides said the goal is for the House to vote on the Senate health care bill and a vote on reconciliation instructions before Obama leaves on March 18 for his trip to Australia and Indonesia.
CNN: Stupak prepared to vote no on health care
Michigan Democrat Bart Stupak says he will bring down the final health care bill if abortion language isn't modified.
CNNMoney: Job creation bill heads back to Senate
Lawmakers' efforts to spur job creation were delayed once again Thursday after the House amended a $15 billion Senate bill before passing it. The amendments mean the Senate must again approve the four-prong measure, this time with no changes, if President Obama is to sign it into law. The Senate may not take up the legislation until next week.
Wall Street Journal: Democrats Revolt Over Energy
President Barack Obama's energy strategy came under attack on at least three fronts Thursday, highlighting the conflict that has hobbled one of the administration's top domestic priorities. On Thursday, big utility operators and some state officials blasted the administration's formal announcement that it would drop plans for a federal nuclear-waste vault beneath Yucca Mountain, Nev., and instead consider what it believes are better options. On Capitol Hill, a group of Democratic lawmakers introduced legislation to block the administration from using the Clean Air Act to regulate carbon-dioxide emissions. Meanwhile, Democratic lawmakers urged the administration not to use federal stimulus dollars to help finance a wind-energy project that involves a Chinese maker of wind turbines.
Washington Post: Obama advisers set to recommend military tribunals for alleged 9/11 plotters
President Obama's advisers are nearing a recommendation that Khalid Sheik Mohammed, the self-proclaimed mastermind of the Sept. 11, 2001, attacks, be prosecuted in a military tribunal, administration officials said, a step that would reverse Attorney General Eric H. Holder Jr.'s plan to try him in civilian court in New York City.
Christian Science Monitor: Sander Levin, chair of Ways and Means, forms powerful brother duo
Sander Levin is now part of one of the most powerful brother acts in Washington since the Kennedys. He was named the chairman of the House Ways and Means Committee Thursday. His brother, Carl, is chairman of the Senate Armed Services Committee.
New York Daily News: Harlem pols such as Wright, Perkins and O'Donnell float names as potential successors to Rangel
Harlem's skies were filled with trial balloons Wednesday as a bevy of politicians floated their names as potential successors to Rep. Charles Rangel.Not that Rangel was gone. Though he gave up his chairmanship of the House Ways and Means Committee amid a deepening ethics probe, Rangel has so far refused to say whether he plans to bow out of seeking reelection this fall.
New York Times: Pressure Mounting, Paterson Loses Aide and Consults Lawyer
Gov. David A. Paterson lost another top administration official on Thursday, when his communications director announced that he could no longer "in good conscience" continue in that role for the governor. Mr. Kauffmann's resignation came as Mr. Paterson sought the help of a prominent criminal defense lawyer, Theodore V. Wells Jr. of the firm Paul, Weiss, Rifkind, Wharton & Garrison, and as new information emerged indicating that the governor's contact with Ms. Booker had been more extensive than previously reported.
Wall Street Journal: Paterson To Gather His Staff; Aide Quits
With the fate of New York Gov. David A. Paterson's political career in the balance, his top aide is convening an urgent meeting of the administration's entire New York City staff on Friday afternoon, according to a senior administration aide. The Democratic governor has been battling intense pressure to resign from office amid allegations that he and state troopers sought to influence witness testimony in a domestic-violence dispute involving one of his closest aides, David Johnson.
CNN: Steele: Leaked RNC presentation 'unfortunate'
Republican National Committee Chairman Michael Steele on Thursday condemned a now-public internal party document that mocks GOP donors, but he would not say if disciplinary action is being taken against the official who created the presentation.
Politico: Money worries curb GOP optimism
Republicans are feeling pretty good about the midterms. Prognosticators don't laugh anymore when they talk about taking back Congress. But while wind at one's back is a good thing, cash in the bank would be better, and on that score Republicans are lagging behind. Their candidates have raised less than half the $84 million that experts estimate it will take to seriously threaten the Democratic majority in the House. The situation at the National Republican Congressional Committee is even bleaker.
Wall Street Journal: South Carolina Race Tests GOP Message
Rep. John Spratt appears to be a ripe target for Republicans this year. The 14-term lawmaker is a Democrat in a conservative state. He is also chairman of the House Budget Committee—the panel that is supposed to keep deficits in check—at a time of rising angst over government spending and debt. But in this hard-hit corner of South Carolina, the Republican Party's rediscovered message of smaller government faces a tough test. In politics, unlike accounting, big spending can be an asset, or made to look like one.
Boston Globe: Delahunt will not seek reelection
Representative William Delahunt will not seek re-election to Congress, the seven-term Democrat will announce tomorrow, ending a nearly 40-year career in elected office and giving Republicans hope of capturing the seat, which stretches from Cape Cod to the South Shore.
Boston Globe: Brown answers McCain's call for help
Hayworth's assault from the right in a GOP primary has forced McCain to launch an early, aggressive defense of his seat. And today, McCain will attempt to enhance his conservative bona fides by hosting the party's new darling, US Senator Scott Brown of Massachusetts, on an Arizona campaign swing. Brown is planning to accompany McCain at a campaign rally and fund-raiser in Phoenix today, followed tomorrow by a trip to Tucson, where they will attend a University of Arizona Wildcats basketball game.
NATIONAL
For the latest national news: www.CNN.com
CNN: Man shoots 2 officers outside Pentagon
A man coolly and calmly approached the screening area outside the Pentagon Thursday evening and opened fire, grazing two Pentagon police officers before they returned fire, critically wounding him, officials said.
CNN: Questions remain as TSA rolls out body imagers
The acting head of the Transportation Security Administration gingerly answered questions Thursday about whether new full-body imaging machines will detect concealed explosives like that allegedly placed in the underwear of the Christmas Day bomber.The deployment of 150 of those machines in front-line use at 11 U.S. airports is to be announced Friday by Homeland Security Secretary Janet Napolitano, TSA officials say.
USA Today : Federal pay ahead of private industry
Federal employees earn higher average salaries than private-sector workers in more than eight out of 10 occupations, a USA TODAY analysis of federal data finds.
CNN: Protests over education cutbacks snarl traffic, lead to arrests
A California movement protesting $1 billion in budget cuts to the state's university system appeared to have burgeoned into a nationwide demonstration on Thursday. Students and professors in dozens of states were challenging administrators and state lawmakers over budget cuts and tuition increases that they say are reducing students' class options and increasing their expenses.
INTERNATIONAL
For the latest international news: http://edition.cnn.com
CNN: Iraqi prime minister doesn't fear return of violence with elections
Iraqi Prime Minister Nuri al-Maliki said he does not fear a return to terrorism and sectarian violence despite a spate of pre-election bombings and political assassinations in the run-up to parliamentary elections this weekend.
CNN: U.S. diplomat: Iran wants more enrichment
As the United States steps up its push for tough new sanctions against Iran, a top American diplomat said Thursday that hopes of a deal with Iran to curb its nuclear ambitions are fading.In the same CNN broadcast, Iran's ambassador to the IAEA, Ali Asghar Soltanieh, told Amanpour that Tehran has opened a window for "face-saving," even as the U.S. and Europe pursue new United Nations sanctions against his country.
Bloomberg: Brown to Face Iraq War Inquiry Into British Government's Role
U.K. Prime Minister Gordon Brown will today face four hours of questioning in London on the conduct of the Iraq war and Britain's part in the conflict. The inquiry into the U.K.'s role in the U.S.-led invasion of Iraq in 2003 has already heard evidence from senior diplomats and ministers who were involved in the government's decision to go to war, including former Prime Minister Tony Blair. No report will be published until after the general election that must be held by June.
CNN: Turkey recalls envoy to U.S. over panel's 'genocide' vote
Turkey recalled its envoy to the United States following a vote by a congressional panel passing a resolution calling the killing of Armenians in Ottoman Turkey genocide.
Bloomberg: China May Start Its First City-Wide Carbon Cap-and-Trade System
China may start its first city-wide carbon cap-and-trade system by June as the world's biggest polluter seeks to rein in emissions, a project adviser said.
London Telegraph: Vatican chorister and usher in gay prostitution scandal
One of Pope Benedict's ceremonial ushers and a member of an elite choir in St Peter's Basilica have been implicated in a gay prostitution ring, in the latest sexual scandal to taint the Vatican.
BUSINESS
For the latest business news: www.CNNMoney.com
CNNMoney: Good job news: Wages are rising. Really.
The end of more than two years of job losses can't come soon enough for most Americans. But with all the attention given to the number of jobs on U.S. payrolls and the unemployment rate, it's easy to miss one important sign of improvement in the job market: paychecks have started to get bigger.
Financial Times: Supertax pulls in £2.5bn for UK Treasury
The supertax on bank bonuses will reap more than £2.5bn for the Treasury, giving the UK government an unexpectedly large windfall to spend ahead of the general election, a Financial Times survey of 16 global banks has found.
Wall Street Journal: Greece Leaps One Key Hurdle
Greece survived a key test by raising €5 billion ($6.85 billion) in a bond sale, but investors warned that a looming wave of debt auctions by other Eureece survived a key test by raising €5 billion ($6.85 billion) in a bond sale, but investors warned that a looming wave of debt auctions by other European countries could make it difficult for Athens to raise the rest of the money it needs.
In Case You Missed It
President Obama says he wants a simple up or down vote on health care. CNN's Dana Bash reports.
http://edition.cnn.com/video/#/video/politics/2010/03/04/bash.health.care.next.step.cnn
As heat builds for tougher sanctions against Iran, CNN's Jill Dougherty looks the administration's policy of engagement.
http://edition.cnn.com/video/#/video/politics/2010/03/04/dougherty.clinton.iran.policy.cnn
Subscribe to the CNN=Politics DAILY podcast at http://www.cnn.com/politicalpodcast
And now stay posted on the latest from the campaign trail by downloading the CNN=Politics SCREENSAVER at http://www.CNN.com/situationroom