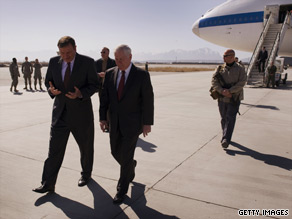 U.S. Defense Secretary Robert Gates, right, talks with U.S. Ambassador to Afghanistan Karl Eikenberry in Kabul Monday.
Kabul, Afghanistan (CNN) - U.S. Secretary of Defense Robert Gates arrived in Afghanistan on Monday morning on an unannounced visit, as NATO-led coalition forces are pressing an offensive in the nation's south.
Gates was scheduled to meet with Afghan President Hamid Karzai and Gen. Stanley McChrystal, the U.S. commander in Afghanistan.
Coalition forces are battling Taliban fighters around the town of Marjah in southern Helmand province.
Dubbed Operation Moshtarak, the offensive was launched in February by an international coalition of 15,000 troops, including Afghans, Americans, Britons, Canadians, Danes and Estonians.
Gates told reporters that he was going to Afghanistan to "get an update on the campaign, not only in Marjah but the next steps as we look to spring, summer and fall."