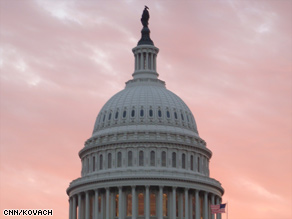 The CNN Washington Bureau's morning speed read of the top stories making news from around the country and the world.
WASHINGTON/POLITICAL
For the latest political news: www.CNNPolitics.com
CNN: Obama to nominate ex-Army general to head TSA, sources say
President Obama has tapped a former Army general to lead the Transportation Security Administration, sources have told CNN. Obama plans to nominate Robert A. Harding, a retired major general with 33 years in the Army, to become the TSA administrator, sources said. Department of Homeland Security Secretary Janet Napolitano will announce the nomination Monday with Harding by her side, according to one administration official.
Bloomberg: Obama Looks to Rally Public in 'Uphill Battle' on Health Bill
President Barack Obama this week kicks off a final push to salvage a health-care overhaul plan that faces opposition from the public and resistance from members of his own Democratic Party. While Obama has brought the effort back from the brink of failure, he still faces hurdles. Republicans are united in opposition, and Democratic lawmakers unhappy with the legislation won't be reassured by polls showing that a majority of Americans oppose it.
Wall Street Journal: Battle Inside Fed Rages Over Bank Regulation
The worst of the banking crisis may be long over, but the political contest over the Federal Reserve is entering a crucial phase in which its personality and role will almost certainly be redefined. The Fed has tried to fend off very public efforts in Congress to strip it of responsibility for regulating America's banks, but a less-visible battle has been playing out inside the central bank. The Fed has undertaken a wrenching reorganization of its army of 3,000 bank supervisors, which has centralized more power in Washington and sometimes pitted officials at the 12 regional Fed banks against those in the capital.
Houston Chronicle: Texas' NASA fight soars even as state's clout fades
Texas' hard-charging campaign to save NASA's back-to-the-moon Constellation program may have star-struck optimism on its side, but the political and historical realities could prove too daunting to overcome. …Texans have so little clout in Washington nowadays that when U.S. Rep. Pete Olson, now Sugar Land's Republican congress-man, wanted to meet privately with NASA chief Charles Bolden, he had to buttonhole the former astronaut after a House panel hearing.
Wall Street Journal: Nostalgia for New Deal Job Plan
The specter of a long period of high unemployment is reviving interest in an old idea: The Works Progress Administration, which put millions to work during the Great Depression. The United States Conference of Mayors is citing President Franklin D. Roosevelt's New Deal programs as its members push for more infrastructure money to go directly to local governments. They are pointing to the legacy of programs like the WPA to bolster their case that such direct public-sector job efforts can work when mayors run them.
The Hill: Unrest in Democratic Party plays out in Emanuel controversy
White House chief of staff Rahm Emanuel has become a reluctant central figure in the battle between liberals and centrists in the Democratic Party. A spate of recent reports have portrayed Emanuel, known for his aggressive brand of Washington politics, as either the voice of reason in a weak, liberal White House or the wet blanket preventing President Barack Obama from pursuing the kind of change he promised as a candidate.