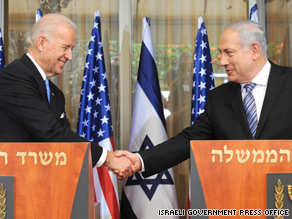 Vice President Joe Biden met Tuesday with Israeli Prime Minister Benjamin Netanyahu.
Jerusalem (CNN) - U.S. Vice President Joe Biden emphasized the close relationship between the United States and Israel as he met with Israeli leaders Tuesday, a visit that also touched on relations with the Palestinians and Iran.
Biden, who arrived in Israel Monday, first met with Israeli President Shimon Peres at his official residence in Jerusalem.
"The bond between our two nations has been and will remain unshakable," Biden wrote in the guest book. "Only together can we achieve lasting peace in the region."
Biden said he hoped the talks with Peres would be "a vehicle by which we can begin to allay that layer of mistrust that has built up in the last several years" between the two countries.
"There is absolutely no space between the United States and Israel when it comes to Israel's security - none at all," Biden said.

Full story