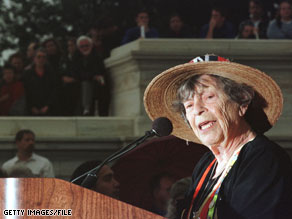 Activist Doris Haddock died Tuesday night in New Hampshire.
(CNN) - Political activist Doris "Granny D" Haddock, best known for walking across the country at the age of 89 in support of overhauling the nation's campaign finance system, died Tuesday night from a chronic respiratory illness at her son's home in Dublin, New Hampshire, according to a family spokeswoman. Haddock had celebrated her 100th birthday on January 24.
Haddock made headlines in 1999 when she embarked on a 3,200-mile trek from Los Angeles, California, to the U.S. Capitol in Washington to advocate on behalf of reducing the role of money in political campaigns.
"Campaign reform is the beginning of everything else," said Haddock in a July 2000 interview with CNN. "There are so many problems in this country that need to be solved, but they need money in order to solve them. And when campaign finance reform has been enacted, that will release a great deal of money."
She was an active supporter of campaign finance legislation authored by Sens. John McCain, R-Arizona, and Russ Feingold, D-Wisconsin, which was signed into law in 2002.
"I was saddened to learn of the passing of Granny D," said McCain. "Her inspirational efforts and hard work will never be forgotten."
In a separate statement, Feingold called Haddock "one of the most determined and dedicated advocates I have ever known."
"Her walk across America in support of campaign finance reform and returning democracy to the people inspired people of all ages and all backgrounds," he added.
In 2004, she waged a last-minute and up-hill challenge for the U.S. Senate against New Hampshire Republican Judd Gregg. Gregg won the contest with 66 percent of the vote, compared to 34 percent for Haddock.
"She was active until two days before her death," said Maude Salinger, a close friend and family spokeswoman. "She lived a very full life. Even though everyone is sad, we're also full of joy over what she was able to accomplish."
Haddock is survived by a son, eight grandchildren, and 16 great-grandchildren. A public memorial is planned for the spring.