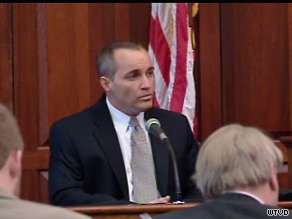 Andrew Young, a former aide to Sen. John Edwards, could soon be sent to jail.
Washington (CNN) - In the ongoing political drama involving sex, lies, videotape and John Edwards – a judge in North Carolina added a new level of suspense: a threat of jail time.
Former Edwards aide Andrew Young could soon be sent to jail, along with his wife, for contempt of court. State Superior Court Judge Abraham Penn Jones said he wants a full explanation of how the couple handled items sought by Edwards mistress Rielle Hunter, including a purported sex tape between her and the two-time presidential candidate, according to CNN affiliate WTVD in Raleigh-Durham.
On the stand, Young pleaded he'd turned over all the items being sought, telling the judge, "I swear I'm trying to tell you the truth." He added, "It's been a long time ago."
The purported sex tape between Edwards and Hunter is among the bombshells Young makes in his book, "The Politician." Edwards previously admitted having an affair with Hunter and, later, admitted being the father of Hunter's daughter.