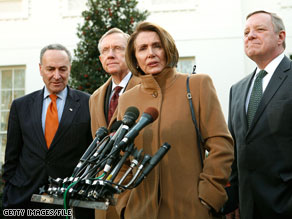 President Obama will meet Thursday with some Congressional Democrats to discuss health care reform.
Washington (CNN) - The fight for health care reform will take the political center stage again Thursday as President Barack Obama and top congressional Democrats work behind closed doors to nail down a final agreement.
House Speaker Nancy Pelosi - who has sounded increasingly optimistic that she will be able to round up the 216 votes needed to pass the Senate health care bill - will host a meeting of the entire House Democratic caucus during the morning.
On the other side of Capitol Hill, Senate Majority Leader Harry Reid will try to build public momentum by framing the issue in more personal terms, holding a news conference with an 11-year-old girl whose mother died of pulmonary hypertension after losing her health insurance.
"We are making progress. A lot of decisions were made," Reid told reporters Wednesday. "I really believe the goal we've been seeking for a long time of health care reform is going to be done. We don't have it all worked out yet but we made a lot of progress."
Obama is set to discuss health care in afternoon and evening meetings with African-American and Hispanic members of Congress. He is also planning to take his increasingly populist, anti-insurance industry message back on the road early next week, delivering yet another reform speech in the political battleground state of Ohio.
The president delivered passionate, campaign-style health care stump speeches earlier this week in Pennsylvania and Missouri. Obama has dismissed questionable poll numbers about the Democratic reform plan, declaring the debate over and urging a final up-or-down vote on the matter in Congress.
"The time for talk is over," he said Wednesday in St. Charles, Missouri. "It's time to vote."
GOP leaders, meanwhile, remain furious over the Democratic strategy for passing an overhaul bill. If the House approves the Senate version of the bill, according to Democratic sources, a separate package of changes designed in part to make the overall measure more palatable to House liberals would then be approved by both chambers - getting through the Senate under a legislative maneuver known as reconciliation. Bills passed under in the Senate reconciliation require only a simple majority of 51 votes.
Senate Democrats lost their filibuster-proof 60-seat supermajority with the election in January of Massachusetts GOP Sen. Scott Brown to the seat formerly held by the late Democratic Sen. Ted Kennedy.
Liberal House Democrats contend, among other things, that the Senate bill does not include an adequate level of subsidies to help middle- and lower-income families purchase coverage. They also object to the Senate's proposed tax on expensive insurance plans.
Separately, a handful of socially conservative House Democrats argue the Senate plan doesn't do enough to ensure taxpayer funds are not used to fund abortions. Several political analysts have said lingering divisions over abortion may prove to be the toughest hurdle for Democratic leaders to overcome.
Republicans argue that reconciliation, which is limited to provisions pertaining to the budget, was never meant to facilitate passage of a sweeping measure along the lines of the health care bill.
Four Senate Republicans who previously served in the House warned House Democrats in a news conference Wednesday that there is no guarantee the reconciliation strategy will succeed.
A unified Senate GOP caucus will fight to prevent changes promised by the Democratic leadership, they said.
House Democrats "better think long and hard" about voting for the Senate plan if they don't like it, said Sen. John Thune, R-South Dakota. "If you vote for the Senate-passed bill, you own the Senate-passed bill."