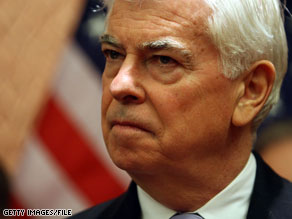 Chris Dodd said Thursday that he will release a draft bill on Monday.
Washington (CNNMoney.com) - A key Senate banking panel is poised to release and start working on its financial overhaul bill next week, despite a lack of consensus on some key issues.
Senate Banking Chairman Chris Dodd, D-Conn., said Thursday he planned to release a draft bill on Monday, even though a "few outstanding issues remain."
Dodd has been promising to release a draft bill for several weeks, but delayed it while trying to work with key Republicans on the panel. Regulatory overhaul cannot pass the full Senate without some Republicans on board.
The Dodd announcement may signal that the senator wants to get the process moving, with or without Republican support.
It was not specified by Dodd what the "outstanding issues" are. But one has been a proposed consumer financial protection agency and another has been how much regulatory power to strip away from the Federal Reserve.