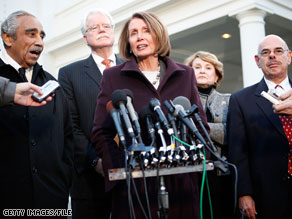 An ongoing CNN survey reveals that House Democrats face an uphill battle to pass health care.
Washington (CNN) - House Democratic leaders hoping to pass a health care reform bill by the Easter congressional recess face increasingly difficult odds, as several of the party's rank-and-file have come out against the plan passed by the Senate in December.
According to an ongoing CNN survey, 17 House Democrats indicate that they would vote no on the Senate plan as currently written, including six members who voted in favor of the House bill passed in November.
Several of these representatives indicated that they would consider voting for the Senate bill if it were significantly modified. However, the lack of support among these members for the underlying plan passed by the Senate on Christmas Eve illustrates the challenge party leaders face in winning over enough votes to pass what has become the Obama administration's signature legislative priority.
Some members made clear that their votes are not negotiable.
Josh Taylor, a spokesman for Texas Rep. Chet Edwards, said the congressman "voted no on health care the first time around and will vote no the second."