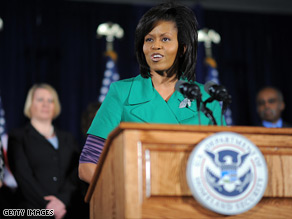 Michelle Obama's first solo international trip as first lady will be to Mexico.
Washington (CNN) - First lady Michelle Obama will travel to Mexico next month in her first solo international trip since her husband became president, the White House announced Friday.
"Mrs. Obama's international agenda will amplify the president's commitment to advancing mutual interests, mutual respect and mutual responsibility between nations and peoples around the world," the White House said in a statement.
During the visit April 13-15, the first lady will speak with officials and citizens, including young people, the White House said, adding that the
trip will be "in recognition of the deep ties between the United States and Mexico."