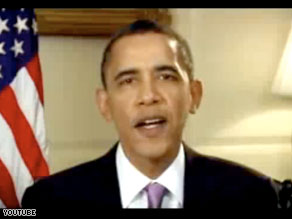 A new ad targeting African American voters features President Obama.
Washington (CNN) – President Obama is featured in a new television commercial targeting African American voters, where he is seen asking for help in pressuring Congress to approve health care reform legislation.
Americans United for Change did not inform the White House that it was using an old clip of the president speaking out on the need for health care reform. Rather, the clip was taken from his YouTube channel under legal guidelines, Americans United spokesman Jeremy Funk told CNN.
The liberal advocacy group is paying $125,000 to run the ad on Black Entertainment Television as part of a $500,000 advocacy campaign designed to convince black voters to support health care reform, Funk said.
"The special interests are marshaling their forces for one last fight to save the status quo and we can't let that happen," Obama says. "That is why I am asking you to summon the energy and commitment and the drive that has fuel this movement since day one."
A female narrator touts Obama's effort to provide affordable health care to every American in the 30 second ad to "Call Congress to make your voice heard now."
Americans United also uses Obama's voice in a one minute ad that will run on "nationally syndicated African American radio" as well as radio stations across the country with "predominantly African American listenership," Funk said.
This ad campaign is expected run through March 18th.