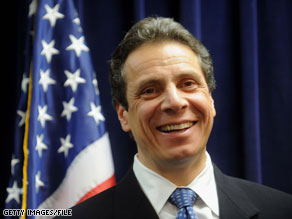 Andrew Coumo recused himself from an investigation of Gov. David Paterson, but not quickly enough for some critics.
(CNN) - One of New York Attorney General Andrew Cuomo's potential political rivals has criticized the length of time it took the state's top legal officer to recuse himself from investigations into the governor.
Cuomo appointed retired Judge Judith Kaye as independent counsel to run the investigations into Gov. David Paterson after a preliminary probe
determined "there are credible issues that need to be resolved," Cuomo said during a Thursday conference call.
The governor, a Democrat, announced two weeks ago he will not run for a full term in office. Cuomo is widely expected to make a bid for Paterson's job, and before his announcement Thursday, had drawn some criticism for investigating the governor.
Former Rep. Rick Lazio, the likely GOP New York gubernatorial nominee, said it took Cuomo too long to appoint an independent counsel to oversee the probes.
"After calling for an independent prosecutor for weeks, I am glad that Andrew Cuomo finally agreed with me and recused himself from this investigation," Lazio said in a Thursday statement. "It should not have required two weeks and a drop in the polls for Andrew Cuomo to recognize what he should have instinctively known from the beginning."
Cuomo told reporters it was "out of an abundance of caution," that he brings in Kaye. The attorney general said that Kaye has agreed to work pro bono, thus adding no additional costs to the taxpayer.
A majority of New York state voters questioned in two polls conducted this week said they wanted a special prosecutor to be appointed to lead the investigation rather than leave the probe in the attorney general's hands. One of the surveys, by Marist College, also indicated that Cuomo's approval rating stands at 54 percent, down 13 percentage points over the past couple of weeks.
Most polls also indicate that Cuomo leads Lazio by a more than 2-1 margin in hypothetical general election matchups.
Kaye will investigate whether Paterson lied about his intentions to pay for World Series tickets and whether he interfered with a domestic violence case involving a top aide.
Kaye "will provide a proper investigation and avoid any possible appearance of any political interest or conflict whatsoever," Cuomo said. The
team of lawyers and investigators already involved will continue their work and report to the judge.
Paterson became governor in 2008 after Eliot Spitzer resigned in disgrace.