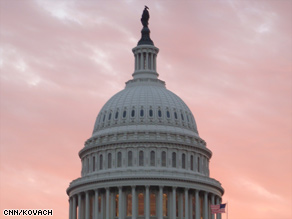 The CNN Washington Bureau's morning speed read of the top stories making news from around the country and the world.
WASHINGTON/POLITICAL
For the latest political news: www.CNNPolitics.com
CNNMoney: Dodd: Time to reform Wall Street is now
The head of a key banking panel on Monday released a draft bill of sweeping regulatory changes aimed at warding off future collapses in the financial system. The bill put forth by Senate Banking Committee Chairman Christopher Dodd, D-Conn., would create a new consumer regulator housed inside the Federal Reserve to ensure consumers get a fair shake with mortgages and credit cards. It would also push banks and financial firms to strengthen capital cushions and create a new process for taking down giant failing companies and preventing future Wall Street bailouts.
Investors Business Daily: Health Bill Advances In Complex Process, But Votes Still Iffy
House Democrats pressed ahead with their health care overhaul Monday, getting approval from a key House panel for a companion "fixes" bill. But new concerns over immigration, legislative maneuvering and student loans emerged. Speaker Nancy Pelosi, D-Calif., has insisted she expects to win a final House vote, which is likely at the end of the week.
Washington Post: House may try to pass Senate health-care bill without voting on it
After laying the groundwork for a decisive vote this week on the Senate's health-care bill, House Speaker Nancy Pelosi suggested Monday that she might attempt to pass the measure without having members vote on it. Instead, Pelosi (D-Calif.) would rely on a procedural sleight of hand: The House would vote on a more popular package of fixes to the Senate bill; under the House rule for that vote, passage would signify that lawmakers "deem" the health-care bill to be passed.
Politico: Democrats: Store closed for health care reform deals
House Speaker Nancy Pelosi is playing hardball with her rank and file in the run-up to an historic health care vote. Instead of the typical wheeling and dealing to pick up much-needed support, Pelosi and her leadership team are warning members that the bill is final, and its language is set, so don't come seeking major changes or handouts for your district. Asked if she was willing to change the final legislation at the request of Democratic holdouts, the speaker said, "No."
CNN: Obama slams insurers, demands health care reform
The yearlong fight over health care reached a fever pitch Monday as President Obama took his call for change to the political swing state of Ohio, slamming insurance companies and repeating his call for a final congressional vote on his sweeping reform plan.
Cleveland Plain-Dealer: Vice President Joe Biden visits Cleveland to raise money for Gov. Ted Strickland
How important is Ohio to Democratic politics? How about both President Barack Obama and Vice President Joe Biden being in town within hours of each other on Monday. Not long after the president boarded his plane at Cleveland Hopkins International Airport after an early afternoon stop in Strongsville to push his health-care plan, Biden landed there for a quick ride into downtown Cleveland. His destination: An appearance at a private fund-raiser for Gov. Ted Strickland.
Foreign Policy: Obama's Asia trip itinerary revealed
President Obama will travel to Indonesia and Australia next week in a delayed, but nonetheless important trip to the country with the world's largest Muslim population and a key American ally facing increased pressure by the United States' top regional competitor, China.
Der Spiegel: Washington Mulls Modernization of Aging Bombs
Germany's foreign minister has called for the removal of Cold War legacy nuclear weapons being stored here, but some in Washington may have other plans. The US Department of Energy is requesting a budget of close to $2 billion to modernize the country's oldest models of nuclear weapons, including those being kept in Germany. In a move that could have an impact on the future of nuclear weapons stored in Germany and other parts of Europe, the United States Department of Energy has included requests in its latest budget proposal for funding to modernize parts of the country's aging nuclear arsenal - a move that would seem to contradict the vision of a nuclear weapons-free world President Barack Obama announced last year.
Los Angeles Times: Velvet gloves in debate by California's GOP candidates in governor's race
Republican candidates for governor Meg Whitman and Steve Poizner met in a generally genteel debate Monday evening that skipped lightly over detailed solutions to California's grievous fiscal mess in favor of the familiar arguments that each has made for months as they drive toward the June 8 primary. Whitman argued that she would bring an outsider's perspective to Sacramento and present the sharpest possible contrast to the presumptive Democratic nominee, former governor and current Atty. Gen. Jerry Brown. Brown, she said, brought to the race a "record of failure." Poizner, who is trailing Whitman in pre-primary polls, sought again and again to define her as too liberal for the party's core voters, an argument he has forwarded more sharply in recent weeks.
NATIONAL
For the latest national news: www.CNN.com
USA Today: First, storms battered the Gulf Coast. Now Census workers are taking the Gulf Coast by storm.
The counters are fanning across the region, hand delivering forms to thousands of families in hurricane-battered areas. Unlike households in most of the rest of the country that get their 10-question forms in the mail, families hit by Hurricanes Katrina and Rita in 2005 and Ike and Gustav in 2008 will get a personal visit. The special attention is for people living in trailers, makeshift apartments or other temporary housing that don't get regular mail delivery.
CNN: Official: Gun in Pentagon shooting once in police possession
A gun recovered from this month's shooting at the Pentagon was once in the possession of the Memphis Police Department, a law enforcement official told CNN.
INTERNATIONAL
For the latest international news: http://edition.cnn.com
CNN: Envoy delays Mideast visit over Israeli settlement move, sources say
The U.S. special envoy for Middle East peace has delayed a visit to the region as the United States awaits a response to its demand that Israel reverse a decision on construction in disputed territory in East Jerusalem, according to sources. The Israeli ambassador to the United States has reportedly called the situation a crisis. The United States has asked Israel to "do something significant" to show that it is serious about moving toward negotiations with Palestinians, a U.S. official and an Israeli official told CNN. Specifically, the United States asked Israel to rescind the decision on the settlement project, the sources said.
New York Times: U.S. Is Reining In Special Forces in Afghanistan
Gen. Stanley A. McChrystal, the top American commander in Afghanistan, has brought most American Special Operations forces under his direct control for the first time, out of concern over continued civilian casualties and disorganization among units in the field. Critics, including Afghan officials, human rights workers and some field commanders of conventional American forces, say that Special Operations forces have been responsible for a large number of the civilian casualties in Afghanistan and operate by their own rules.
The Guardian: As Iraq war enters final act, US readies for exodus of men and machines
The men and women of the 13th Sustainment Command are raring to begin the biggest movement of troops and machines anywhere in the world since Vietnam, more than 40 years ago. As soon as [Brigadier General Paul] Wentz receives the call from the commanding US general in Iraq, Ray Odierno, a massive network of trucks, planes and ships will start to evacuate around 45,000 troops and more than 1m tonnes of equipment, ranging from super-sized bulldozers to water coolers, as well as hundreds of different types of machines and weapons that were used to fight and run the war. The pullout looms as quite a payday for the Iraqi army. Late last year the US government set a cap of $30m worth of equipment that commanders can leave behind at each facility – a 15-fold increase from when guidelines were first written five years ago.
CNN: Victims with ties to U.S. were targeted, Mexican mayor says
Authorities believe assassins targeted a pregnant woman and two other people connected with a U.S. consulate who were killed in drive-by shootings over the weekend, Ciudad Juarez Mayor Jose Reyes Ferriz said Monday.The killings were carried out by a local gang, known as Los Aztecas, that is allied with the Juarez Cartel, Reyes told CNN. No arrests had been made by Monday afternoon.
Washington Post: FBI, DEA join probe of slayings near Mexican border
Dozens of officials from the FBI, the Drug Enforcement Administration and other U.S. agencies joined an investigation Monday into the killings of three people tied to the U.S. Consulate in the Mexican city of Juarez, scrambling to determine whether the slayings marked an escalation in the region's drug war or were simply cases of mistaken identity, officials said.
New York Times: Chile Braces for a Major Economic Slowdown
Just a few weeks ago, some 2,000 fishermen who ply the waters of this port city for sardines and mackerel were busy mending their nets and testing their rigs in preparation for the start of the four-month fishing season. But the tsunami that barreled through here after last month's 8.8-magnitude earthquake washed away the fishing industry before the fishermen could cast their first net. The effect on the economy of this city of 250,000 residents, for whom fishing is the main industry, will be far-reaching, with city officials estimating that it could take up to a decade to rebuild homes and port facilities. And this year's fishing season, which was to begin last Monday, is lost, fishermen said.
CNN: Thai protesters collect blood for message
Anti-government protesters launched a blood drive Tuesday to collect enough samples to douse the ministers' offices. The dramatic gesture is the latest move by the anti-government United Front for Democracy Against Dictatorship (UDD) to force Prime Minister Abhisit Vejjajiva to dissolve parliament and call new elections.
Times of London: Nicolas Sarkozy's prospects for a second term diminish after poll rout
President Sarkozy's prospects of a second term looked shakier yesterday after voters showed their distaste for his leadership by routing his party in the first round of elections for regional councils. The Union for a Popular Movement, the machine that Mr Sarkozy built for his election in 2007, won 26 per cent, the lowest vote for a centre-right party in half a century.
Der Spiegel: Pope Remains Silent as Abuse Allegations Hit Close to Home
Allegations of sexual abuse in the German Catholic Church continue to surface. Questions have been raised about what Pope Benedict XVI may have known about specific incidents of abuse and his brother, Georg Ratzinger, is also under fire. The pope, however, has so far remained silent.
BUSINESS
For the latest business news: www.CNNMoney.com
Wall Street Journal: Lehman Whistle-Blower's Fate: Fired
Lehman Brothers Holdings Inc. ousted a whistle-blower just weeks after he raised red flags about the securities firm's accounting in 2008. Matthew Lee, a 14-year Lehman veteran, was let go in late June 2008 amid steep losses at the firm as it tried to maneuver through the global financial crisis. Earlier that month, he had raised concerns with Lehman's auditor, Ernst & Young, that the securities firm was temporarily moving $50 billion in assets off its balance sheet. This accounting strategy helped to mask the risks Lehman was taking amid scrutiny by investors and regulators about the health of Wall Street firms.
CNNMoney: Feds arrest their first bank bailout fraud suspect
Federal authorities on Monday charged the former chief executive of a New York bank with being the first suspect to try and rip off taxpayer funds from the Troubled Asset Relief Program. The U.S. Attorney's office for the Southern District in Manhattan said it arrested Charles Antonucci, former CEO of The Park Avenue Bank, with self-dealing, bank bribery, embezzlement of bank funds and fraud, among other charges.
New York Times: Junk Bond Avalanche Looms for Credit Markets
When the Mayans envisioned the world coming to an end in 2012 — at least in the Hollywood telling — they didn't count junk bonds among the perils that would lead to worldwide disaster. Maybe they should have, because 2012 also is the beginning of a three-year period in which more than $700 billion in risky, high-yield corporate debt begins to come due, an extraordinary surge that some analysts fear could overload the debt markets.
Bloomberg: China, Japan Reduced Holdings of U.S. Treasury Debt in January
China and Japan, the two biggest foreign holders of Treasuries, reduced their positions of U.S. government debt in January as a measure of demand for American financial assets fell to a six-month low.
Wall Street Journal: Winds of Change for Boeing, Airbus
When it shops for a new fleet of single-aisle airliners later this year, UAL Corp.'s United Airlines won't just be choosing between Boeing Co. and Airbus. It will also look at planes from Canada's Bombardier Inc. and Brazil's Embraer. For years, Airbus and Boeing have split the market for big passenger jets. But a series of shifts in the sector could start to erode that dominance, leading to big changes in the commercial aircraft industry.
Wall Street Journal: Google Exit Would Open a Door for Microsoft
If Google Inc. decides to close the door on its search engine in China, it might open a door for Microsoft Corp.In the wake of Google's announcement, Microsoft's leaders, including Chief Executive Steve Ballmer and Chairman Bill Gates, have said they intend to remain in China and will continue to comply with local regulations, which means filtering out certain political content and other sensitive material.
Bloomberg: Ford Had 20 Acceleration Deaths as Regulators Cited Human Error
U.S. regulators have tracked more deaths in vehicles made by Ford Motor Co., Chrysler Group LLC and other companies combined than by Toyota Motor Corp. during three decades of unintended acceleration reviews that often blamed human error. Fifty-nine of 110 fatalities attributed to sudden acceleration in National Highway Traffic Safety Administration records occurred in vehicles other than those sold by Toyota, whose recalls have drawn widespread attention to the issue, according to data compiled for Bloomberg News by the NHTSA.
In Case You Missed It
What could a compromise on the health care bill cost you? CNN's Dana Bash reports.
http://www.cnn.com/video/#/video/bestoftv/2010/03/16/bash.drug.give.cnn
Subscribe to the CNN=Politics DAILY podcast at http://www.cnn.com/politicalpodcast
And now stay posted on the latest from the campaign trail by downloading the CNN=Politics SCREENSAVER at http://www.CNN.com/situationroom