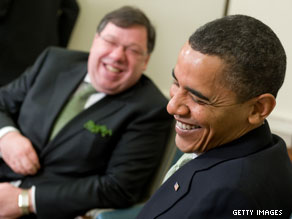 President Obama met with Irish Prime Minister Brian Cowen on St. Patrick's Day.
Washington (CNN) - President Barack Obama marked St. Patrick's Day Wednesday by welcoming the Irish prime minister to the White House.
The president, who wore a light green necktie for the occasion, noted the numerous contributions made by Irish Americans to the development of the United States. He also thanked the government in Dublin for its work in promoting the peace process in Northern Ireland, as well as its cooperation on issues tied to the push for greater global economic stability.
"Thirty-six million Americans claim Irish ancestry," Obama said. "I'm sure more do on St. Patrick's Day. And it's a testament I think to how close our two countries are that America has been shaped culturally, politically, economically, by the incredible contributions of Irish-Americans. Those bonds endure."
In an apparent allusion to the acrimonious health care debate on Capitol Hill, Prime Minister Brian Cowen joked that he had decided to come to Washington during a quiet week. He also thanked Obama for his leadership, calling him the leader of the free world.
The two men were later hosted by House Speaker Nancy Pelosi at a luncheon on Capitol Hill.