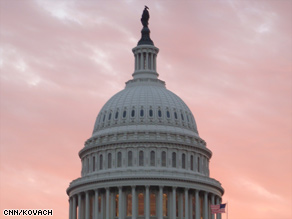 The CNN Washington Bureau's morning speed read of the top stories making news from around the country and the world.
WASHINGTON/POLITICAL
For the latest political news: www.CNNPolitics.com
CNN: House Democrats weigh controversial rule in health care vote
Can the House of Representatives pass a health care bill without actually voting on it? That question - bizarre to most casual political observers - took center stage Tuesday as top House Democrats struggled to find enough support to push President Barack Obama's top legislative priority over the finish line. House Minority Leader John Boehner, R-Ohio, said Tuesday that Republicans will try to block the procedure. They will try to force a vote on a resolution requiring the Senate health care bill to be brought to an up-or-down vote.
Bloomberg: Health-Care Bill Faces Delay as Democrats Struggle With CBO
Congressional Democrats, racing to finish work on an overhaul of the U.S. health system, are facing delays as they strive to meet deficit-cutting targets. The Democrats, who had expected a final cost estimate from the Congressional Budget Office as early as last week, have to show that a bill amending legislation the Senate passed in December will reduce the federal budget deficit by $2 billion over the first five years and not add to the deficit afterward.
CNN: Health care foes 11 votes shy of defeating bill
Five more House Democrats said Tuesday that they will vote against Senate health care legislation, which puts opponents of reform just 11 votes shy of the 216 needed to prevent President Obama from scoring a major victory on his top domestic priority. An ongoing CNN analysis shows that opposition in the House to the Senate health care plan has reached 205 members.
New York Times: Senate G.O.P. Leader Finds Weapon in Party Unity
Before the health care fight, before the economic stimulus package, before President Obama even took office, Senator Mitch McConnell, the Republican minority leader, had a strategy for his party: use his extensive knowledge of Senate procedure to slow things down, take advantage of the difficulties Democrats would have in governing and deny Democrats any Republican support on big legislation. Republicans embraced it. Democrats denounced it as rank obstructionism. Either way, it has led the two parties, as much as any other factor, to where they are right now. Republicans are monolithically against the health care legislation, leaving the president and his party executing parliamentary back flips to get it passed, conservatives revived, liberals wondering what happened.
Politico: Senate rejects earmark ban
The Senate on Tuesday soundly rejected efforts to impose a ban on congressional earmarks, throwing a wrench in House efforts to significantly curtail pet projects this election year.
CNN: Pentagon probes alleged ad hoc spy ring
The Department of Defense has launched an investigation into whether a $24 million contract to gather information about developments in towns and villages in Afghanistan and Pakistan may have been inappropriately used instead to run an ad hoc spy ring, according to U.S. military officials. Concern within the Central Intelligence Agency about the contract prompted the investigation, officials said.
The Hill: Petraeus offers first public support for change to 'Don't ask'
Gen. David Petraeus, the head of U.S. Central Command, said Tuesday that the time has come to consider changing the controversial law barring openly gay from people serving in the U.S. military.