Washington (CNN) - Click here throughout the day for the latest updates on where health care legislation stands.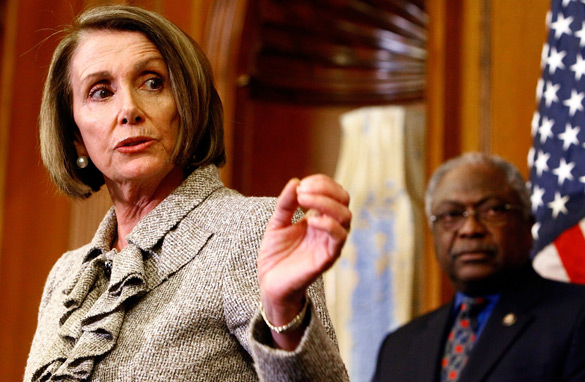 House Speaker Nancy Pelosi and Majority Whip James Clyburn tout their health care reform legislation at a news conference at the U.S. Capitol. (Photo Credit: Getty Images)
Update 3:00 p.m.: Read the Health Care and Education Affordability Reconciliation Act of 2010 and a section by section analysis prepared by Committees on Ways & Means, Energy & Commerce, and Education & Labor.
Update 1:45 p.m.: CNN's Ed Henry asks Robert Gibbs about using the "deem and pass" strategy to pass health care legislation.
12:21 p.m. – House Speaker Nancy Pelosi holds a press conference to tout the new Congressional Budget Office score released Thursday morning:
Republican leaders gather in the Capitol: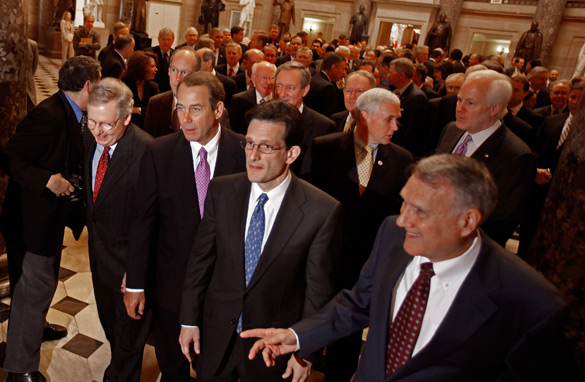 Congressional Republican leaders gather for a strategy meeting in the U.S. Capitol Thursday morning. (Photo Credit: Getty Images)
11:14 a.m. – Rep. Paul Broun, R-Georgia, questions the leadership of House Speaker Nancy Pelosi at a press conference with Sen. Tom Coburn and other Republicans:
"I have three simple questions for Ms. Pelosi. Are you so arrogant that you think you know what is best for the American people? Are you so ignorant that you're oblivious to the wishes of the American people? And are you so incompetent that you're going to ignore the constitution of the United States, use tricks deceptions, bald faced lies, to try to ram down the throat of the American people something that they do not want and is going to be absolutely worse for their health care?"
11:03 a.m. – Senator Tom Coburn of Oklahoma warns House members that switching votes will have consequences:
"I want to send a couple of messages to my friends in the House. If you voted no and you vote yes, and you lose your election and you think your nomination to any federal position isn't going to be held up in the Senate, I've got news for you. Number two is if you get a deal, a parochial deal for you or you district, I've already instructed my staff and the staff of seven other Senators, we will look at every appropriations bill, at every level, at every instance and we will outline it by district and we will associate that with the buying of your vote. So if you think you can cut a deal now and it not come out until after the election, I want to tell you, that isn't going to happen."
9:51 a.m. – House Rules Committee Chairwoman Louise Slaughter, D-New York, explains the process by which the House plans to pass the Senate health care bill:
"Our sense of it – I am prepared to put the Rule on the floor on Sunday...It's not that complicated. It's been used here forever. This notion that this is some brand new, Byzantine thing we brought up out of the cave is nonsense. It's been used every term, I think, certainly since I've been here, over and over again. What we are saying is that the Senate bill will be passed by the House upon the passage of reconciliation. We need to make certain that reconciliation passes because we want to be sure that the Senate bill is changed so that we can get the things out that were so objectionable to the members of the House. And we know what all those are – the Ben Nelson – all the other excessive things that we did not want to have in that bill, that did not do anything for health care."
GOP Response:

9:48 a.m.: House Minority Leader John Boehner:
"I'm sorry Mr. President, this isn't about you, it's not about the office you hold, and it's not about the Speaker, this is about the American people and the health care system that they want for our country. We've made clear that it's time to scrap this bill and start over on common sense reforms to make our current health care system better. But no, they're going to continue to ram, ram, ram this bill through the Congress."
9:48 a.m.: House Minority Leader John Boehner:
"It's pretty clear that the Democrat leaders here in Congress, the president, aren't listening to the American people because the American people are saying stop and they are screaming at the top of their lungs. The president's latest ploy as he's dealing with members trying to convince them to vote against their constituents and to vote with him is to make the point that his presidency is on the line."
9:49 a.m.: House Minority Leader John Boehner:
"I can tell you this, that the Republicans in the House and Senate have worked closely together over the last year and we are going to continue to work closely together and to do everything that we can do to make sure that this bill never, ever, ever passes."